Every home tells a story -- and so, too, does the furniture within it. We recently got a large shipment of Stickley furniture from an estate in New Hampshire, and every piece in the collection spoke of the homeowners' lifelong appreciation for quality and craftsmanship.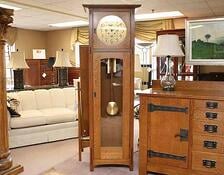 More than a decade ago, he had purchased a waterfront home from a couple who were fanatics for Arts & Crafts. They had built the house to showcase their collection of museum-quality Arts & Crafts furniture, including some original pieces by Stickley. Indeed, the furniture was more valuable than the home itself. When the original owners sold their home and their furniture collection, some of the most valuable tables and chairs landed in mansions owned by Barbara Streisand and Steven Spielberg. Our customer was determined to stay true to the design of his new home, so he decided to invest in his own collection of Stickley.
Perhaps it is not surprising that he was drawn to Stickley and the practical and simple elegance of Arts & Crafts design, so understated in appearance, but truly exquisite in its craftsmanship. In a way, his furniture was a reflection of his character: honest, unadorned, carefully crafted and solid as oak. Our customer is a quiet, wise and practical man. He believes in simplicity and the old adage that "less is more". Taking his own advice, he is now selling his beloved home and its contents to downsize to a life more manageable and enjoyable. More than 30 pieces of his Stickley's flagship Mission Oak furniture are for sale in our showroom.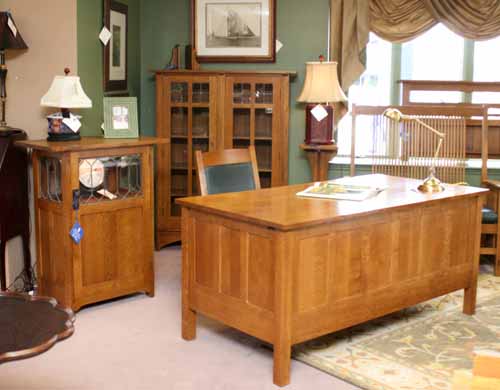 Arts & Crafts furniture is also one of my favorites, though it isn't appreciated by everyone. To some, it is too plain and ordinary looking. In our store, the furniture sparks two extremes of reaction. For every person who runs to hug these pieces when they see them in the showroom, another scoffs at the price tag and moves along. Never have we seen furniture that elicits such strong feelings. People either love it or they don't get it.
As for me, I appreciate the craftsmanship and the quality. When I study the wood and the joints of a particular piece, I can almost hear the whine of the workshop saws and I can almost see the craftsman laboring over every step. This furniture has a special dignity, which makes it so much more appealing to me than the mass-produced, cookie-cutter furniture that fills many a suburban home. It's not that I'm a furniture snob. There's a market for Pottery Barn and Crate & Barrel. Their furniture is functional -- bright and cheery, even.
Still, Mission Oak is different. It connects with your soul. It is subtle, but full of substance. These pieces speak not of the factory but of the forest. Every home does tell a story. With Mission Oak, it sounds like pure poetry.