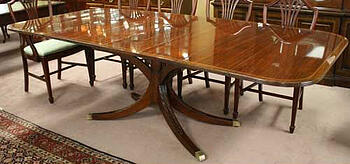 Charak Furniture was one of the premier makers of high end reproduction furniture in the United States during the 1930s. Manufactured in Boston, Charak pieces were wonderfully crafted with solid mahogany and fabulous veneers. The works of true artisans, Charak Furniture is very desiresable among collectors and furniture connoisseurs.
A quick search on ebay will reveal some stout pricing and the demand is evident for such pieces.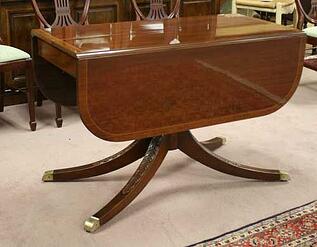 This particular Charak table is an amazing piece as it boasts four leaves and the ends drop down to form a small drop leaf table which is able to fit into even the smallest abodes. But this beauty quickly transitions into a full sized dining table offering great looks, stability and comfort. The carved pedestal base which supports the table top in a symmetric fashion allows for up to eight chairs to surround a good meal without the frustration of wiggling around table legs or pedestals.
This table has been restored with a hand rubbed, French polish finish and is available for $1,499 in our Hanover Furniture Consignment Gallery. You can also find great dining room table in our Newton Furniture Consignment Gallery.