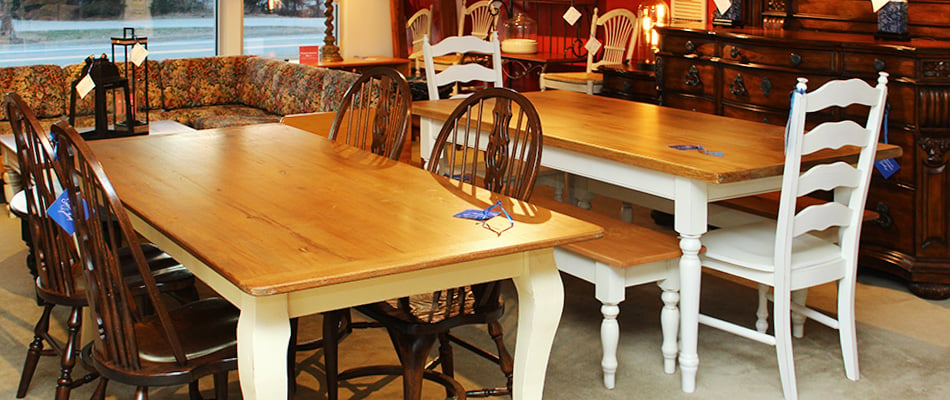 Here in New England, we have a proud tradition of furniture craftsmanship that dates back to our colonial days. The roster of manufacturers has thinned out, due to recession and a flood of cheap stuff from Asia. Still, there are quality furniture-makers quietly thriving from Maine to Connecticut.

We got a call from one of them a couple of weeks ago with an intriguing question: Would FCG be interested in selling some of its samples and returns?

Our answer was a resounding yes!

While we agreed not to disclose the name of our new partner, we've been an admirer of this family-owned business and its cottage-style furniture for years. Some 95% of the furniture it offers is made in America, mostly in small workshops by skilled craftsmen. Customers order their custom-made pieces online, choosing style, wood, finish, color and size. The quality is superb.

Our new partner is renowned for its custom-made farmhouse tables from pedestals to trestles to turned-leg rectangular tables and more. This week, we got a truckload of more than 30 in different sizes, styles and colors. They are all awesome. We also got some bedroom pieces, bookcases and desks.

We're proud to offer this furniture at our store in Plymouth. There's no damage to or defect in any of these pieces. All are handmade of solid wood. Some are painted and the colors are stylish and vibrant.

So if you are looking for a new cottage-style dining table for your home, look no further than FCG in Plymouth. You won't regret the trip!