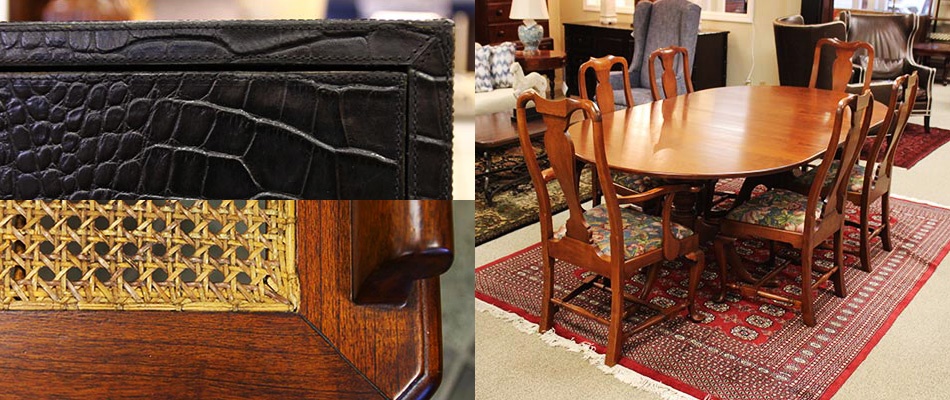 "Why me?"

Brad, manager of our store in Plymouth, was asking that question with utter delight. He'd been chosen as an extra in a movie being filmed this fall in Boston starring a most famous actress, whom he adores. He and his identical twin brother had tried out for parts, but only he had been chosen.

So when he had the chance to ask the director why he made the cut – and not his brother – he pounced gleefully. Surely, the director would allude to his dashing good looks. Maybe he had an unrealized but extraordinary gift for acting. The director might even say that he was so photogenic that it's a miracle he hadn't been discovered sooner.

Brad was eager to know so he could lord it over his disappointed brother, Ron.

At FCG, we've enjoyed the antics of these rivalrous twins for more than a decade. Brad has been store manager in Plymouth since 2013. Ron is one of the top salespeople at our store in Natick. Both are outrageously talented in interior design and our customers love them. But pit them against each other in a contest, and the daggers come out. Elegant daggers, of course.

Consider FCG's Christmas tree contest of 2016. Competitive tree decorating is a tradition that pits our three stores against each other to win the prize for designing the most fabulous tree. Brad and Ron led top-secret missions to secure the title for their stores, with results that were over-the-top. Snowflakes as big as parasols? Yup, that was Brad. The guy who was peaking in the window, spying, while Brad worked away? Yup, Ron.

So of course sparks would fly when they decided to vie for roles in the movie. They'd seen an ad in the local paper and decided to give it a shot. On the set, the talent scout sized up the two, then pointed to Brad, adding "I think we can use him."

Ron was devastated. The two didn't speak to each other on the ride home. But Brad was already broadcasting the news far and wide. He called me to let me know he would need a day off to get fitted for his costume. He'd also been told to grow a beard. "Right away!" he replied eagerly. "My whiskers will be ready!"

A few days later, Brad was sitting with the talent scout, the makeup artist and costume designer, and he couldn't help but ask the question. "Why me and not my identical twin?" The talent scout grabbed her computer to check out a photo of the two. "Well, she said bluntly, "we need an older looking man."

Brad's heart sank. Older looking than his twin? Despite his careful skin-care regime? He left his fitting deflated. Minutes later, he got a call from his brother. "They want me!" Ron crowed. Apparently, the talent scout thought he'd be perfect for the role of a gentleman in a tuxedo sitting in the front row of a theater. Meanwhile, Brad found out he was cast as a bum sitting in the rafters.

"It's all my fault." Brad complained. "Why did I ask! Because of me, Ron has the better role – and he'll be only a few feet away from my leading lady."

Our days are never dull at Furniture Consignment Gallery. If you're not entertained by our ever-changing inventory, then come just to visit our new resident movie stars. Ron and Brad are always worth the price of admission.