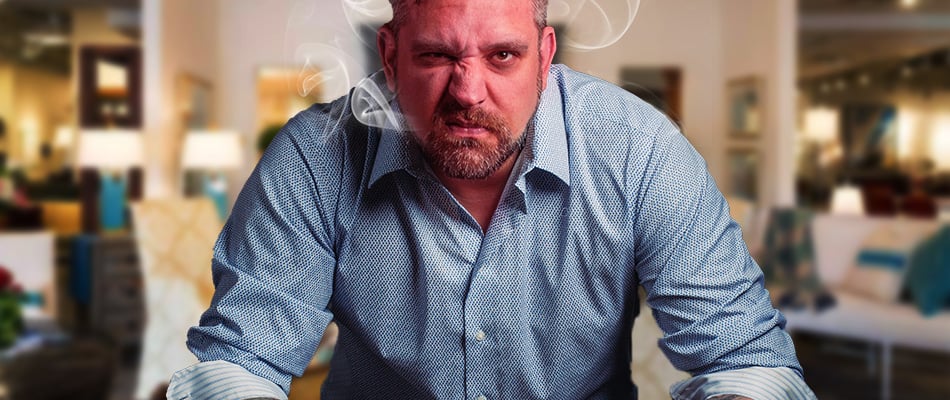 The front door of the showroom swung open wide, letting in a blast of cold air and a man whose expression was just as icy. He stomped across the floor until he came to the front counter where he stopped and glared at me. Then, he reached into his pocket and yanked out a crumpled receipt.

Frowning, he made a half-hearted attempt to straighten it out then heaved a sigh of irritation and shoved it towards me. "I'm here to pick this up," he said sourly. "My wife bought it."

Now, I'm no Pollyanna, but sometimes I have to admit I enjoy the challenge of winning over the occasional grinch. That's part of the fun of a retail business. Glancing down at the receipt, I looked up and grinned at the guy. "Oh man," I said cheerfully, "you're going to like this."

He snorted. "I doubt it."

Outside, his car was parked, with its engine running. I noticed he'd blocked the entrance, but I decided to let it go. After all, we were bonding here. I didn't want to interrupt our special moment.

As he followed me through the showroom, I could see his eyes wandering from one piece to another. He was starting to get curious. "What is this stuff?" he demanded gruffly. "Consignment? What the heck does that mean?"

A dialogue! This relationship was blossoming before my eyes! I explained told him all about FCG, and how we provide quality gently used furniture at amazing bargains. "Your wife, by the way," I confided in a low voice, "got a real steal."

He raised his eyebrows a bit skeptically and glanced over at me. "You think so?"

"I do!" I said enthusiastically. By then, we were standing in front of a pair of upholstered swivel rocking chairs. They were a red barrel style and they were in great condition. Our consignor had paid about $1,000 – for each chair. His wife bought both for $799. I was really grinning now and he was nodding his head in approval.

So much progress! I'm so encouraged. We might have a future together!

Like two bros, we cemented our friendship by lifting heavy stuff and grunting. I helped him load the chairs in his truck and he set to work to buckling them down for the ride home. It was hard to say goodbye. "Thanks, man," he said, roaring out of the parking lot.

I watched him disappear into traffic. He'd be back, I was sure of it. We'd have long walks through the showroom and long talks about the best way to hoist stuff into the back of his pickup. We'd move more furniture together. After all, his wife knows a great bargain when she sees it.