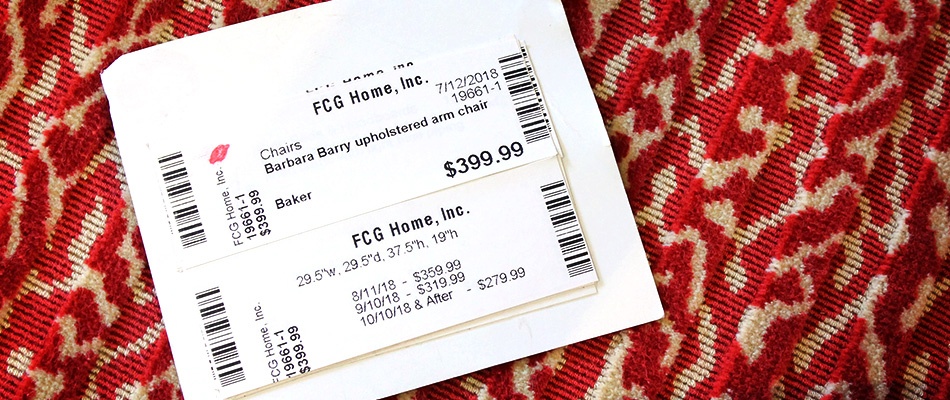 With an imperial wag of his finger, the customer summoned me over to where he was studying a piece of furniture at our store in Natick. He pointed to a coffee table, then nudged one end of the table, studying me sharply. The piece rocked like a see-saw.

I reached underneath the piece and turned a little adjuster that was hidden under the table. Instantly, it stabilized. Proud of myself, I glanced up, expecting the man to be pleased but he just looked deflated.

Just as silently, he peered at the coffee table even more closely and pointed to a small scratch in the wood. I whipped a furniture repair marker out of my back pocket, dabbed a little color on the table and the scratch vanished.

I gestured at the table to demonstrate my good work, but the customer looked even more frustrated. He pointed to the price on the tag and frowned. That's when I got the point of all his unspoken complaints about the coffee table. Like a yard sale haggler, he wanted a better price.

This customer was employing a negotiating tactic that's pretty common on our showroom floor. Plenty of customers hope to get a better price by calling our attention to tiny flaws and other imperfections on our consignment pieces.

Here's what they may not realize: we inspect every single item closely before we accept it for consignment and then we price each item based on condition. Some pieces have small blemishes that are repaired easily. Other pieces have issues that cannot be fixed with a touch-up marker. Either way, FCG's prices reflect precisely our expert opinion of the value of the piece.

This isn't a judgement we make lightly. We discuss our proposed pricing with our consignors before accepting their items. Our valuations are made based on condition, quality of construction, brand and age.

We process a lot of items each week and some items occasionally get overlooked. In those instances, we'll try to adjust when we can, but otherwise, we're confident our prices are fair and true. Our customers need not play any games when they've found a piece of furniture they love.