Last week an inordinate amount of "Mission" style furniture has joined our inventory. In fact, we just set-up a "Mission" King Bedroom set manufactured by Michaels furniture. So let us play tribute to those Arts & Crafts craftsman whose individualism spawned new ideas and great designs that we enjoy and live with today.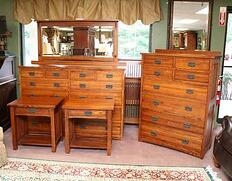 America was advancing rapidly in the late 1800s and a wonderful movement gained steam. The Arts & Crafts Movement was consuming the skilled American craftsman who not only had knowledge and desire, but now had the proper tools to manufacture.
The greatest furniture pioneer to result from the Arts & Crafts movement was Gustav Stickley who was born in 1858 and began producing "Mission" furniture in 1901. The first piece of "Mission" style furniture was recognized in 1895. So Stickley was only a few years behind. Stickley was an extraordinary talent who believed that furniture should be made well and have a simple design. He believed that materials were not to be wasted and that great construction was paramount. Stickley designed his furniture to serve a utilitarian purpose while using the best, local, natural resources. In America's case, he believed that key ingredient was a quartersawn, tiger oak wood.
The clean lines of the "Mission" style inspired the backyard craftsman. As a result, the quality and design of "Mission" pieces built in this period ranged greatly. Some Historians have placed Stickley and others who were building outstanding furniture into a separate category. The higher-end designs and better quality construction from this period distinctively became known as "Arts & Crafts" furniture. Today, the quality, construction and design differences are on display in our showroom. This week we have "Mission" furniture from Kincaid and Basset
and "Arts & Crafts" furniture from Stickley.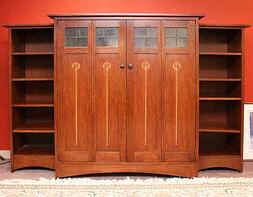 Indeed, there is a difference.