When I was ten, I desperately wanted all the actio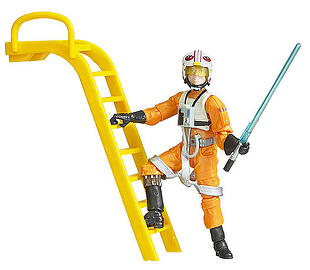 n figures from my favorite movie, Star Wars, for Christmas. Imagine my joy when I tore the wrapping paper off just about every character worth owning: Han Solo, Chewbacca, Obi-Wan Kenobi. Best of all, I got Luke Skywalker, the X-Wing Fighter Pilot, decked out in his orange jumpsuit - with helmet and lightsaber.
Within an hour, though, joy turned to tragedy. I was staging a wrestling match with Han and Chewbacca when, suddenly, I heard a snap. Han's head popped off his body and bounced a couple of times on the carpet before rolling to a stop. His angry eyes glared up at me. I swear.
"Mom!" I howled, gathering up the broken toy and heading for the kitchen. That's when our youthful Miniature Schnauzer moved in for the kill, digging his teeth into Luke Skywalker. Up the stairs he dashed and slid under my brother's bed. I finally wrestled the toy away from him, but damage had been done. Luke's arm was mashed by dog teeth. He couldn't even hold his lightsaber.
The lack of any swear words in my ten-year-old vocabulary, kept me from accurately expressing my despair.
I remember that day as if it was yesterday. Isn't that one of the greatest gifts of Christmastime - all the memories of long-ago holidays?
Last Monday, I spent an evening with a group of people who are as close to family as you can get without actually being family: our employees. We reflected on Christmas Past at Furniture Consignment Gallery. Seven year ago, there were four of us in the break room eating sandwiches. This year, we numbered 24, and we celebrated at a local restaurant.
Times change. We always hope they are for the better. A day to reflect, to appreciate others and to think about how how things in our lives could have been better or worse. Imagine if I had never opened those packages that Christmas morning? What if I saved them and sold them thirty years later on e-bay?
Nahh... I like the way things turned out.
Merry Christmas.