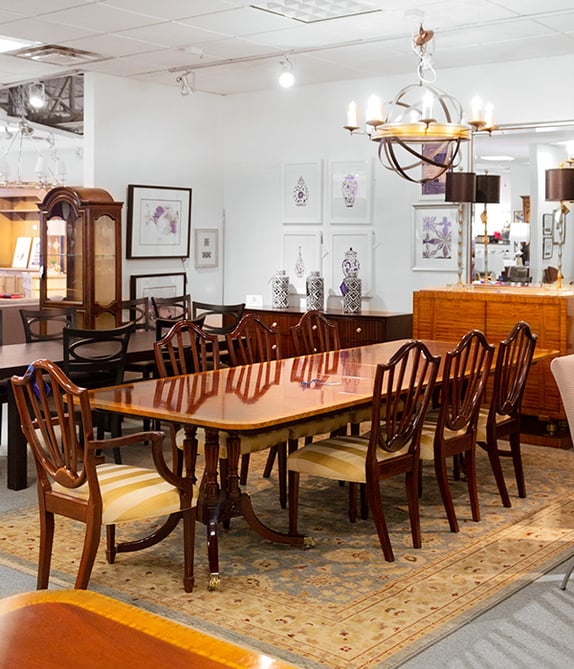 How often can a simple piece of furniture be used to illustrate a critically important principle of economics? Consider this:
In 2012, a delicate birdseye maple table first made its first appearance on the showroom floor of FCG. Its owner was downsizing from a formal colonial in Andover to a beach cottage on the North Shore, and she wanted to know if we could resell her table, in pristine condition.
The table, a real beauty, didn't linger long at FCG. A savvy buyer scooped it up and brought it home to Wellesley. The table spent almost a decade in a stylishly decorated home in that leafy suburb.
Now, the Wellesley folks are heading south to Texas as soon as the cold weather can be coaxed back to Canada. FCG got a call to come and collect the table, which is now awaiting another buyer – and another home – in our store in Natick.
FCG is essentially a Ferris Wheel of furniture – and a shining example of what's being called the "circular economy." That refers to a closed-loop economic system in which items are reused, repaired or refurbished if needed, and recycled to reduce the amount of waste, pollution and inefficiency in the world. For many governments around the world, creating a robust circular economy is a high priority now.
The year-long pandemic has shone a bright light on the kinks in our current linear economy. Let's take new furniture as an example. Since the 1950s, when mass production emerged, a simple table would be sold at a furniture store to one owner who would use it then toss it in the trash. That's been the dominant system for decades for many items from clothing to electronics.
The pandemic exposed the problems inherent in the linear system. For one, Covid snarled the worldwide supply chain to such an extent that consumers are waiting six to nine months for their new furniture to be delivered. Once they do get it, they toss old their furniture in the trash. That, in turn, is causing bloated landfills.
Taking an even broader view, the linear economy, that is the furniture sector, has been fouling our planet to an extraordinary degree for the past few decades. Most furniture is made in Asia, then packaged and placed on massive cargo ships. Those ships burn a vast amount of highly polluting fuel in the course of their long journey to a port in the U.S.
Then, trucks continue the journey, hauling those boxes to stores all over the nation. At every step of the way, vast resources – wood, oil, and human ingenuity and effort – are being used. Anything that is damaged on the long journey is discarded. Destination: landfill.
A new planet-conscious generation is sounding the alarm, louder and louder. Earth, our home, might not survive decades more of the linear economy. The cost is punishing. That's why FCG is so proud to be a leader in the movement towards a "circular economy."
So stop by one of our three stores in Hanover, Plymouth and Natick. They're chock-full of well-crafted, stylish pre-owned furniture at bargain prices. You may leave with the perfect piece for your home and the warm glow of knowing you've done your part in some small way to save the planet.