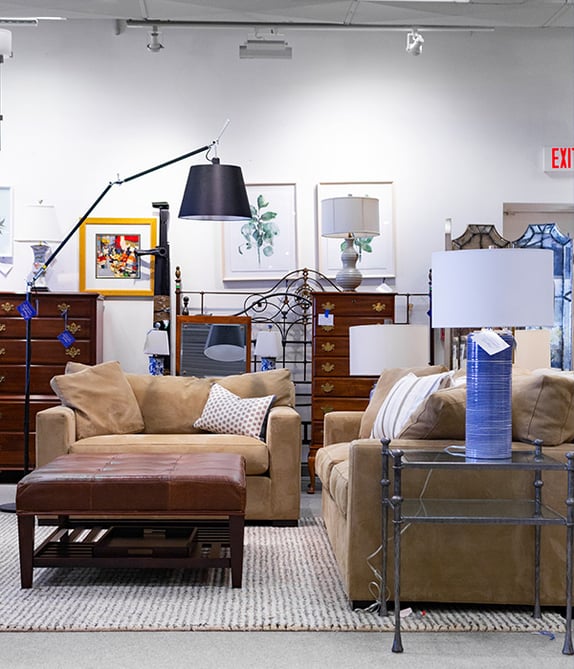 One year ago, the evening news bristled with terrifying reports from Northern Italy. People were falling ill and, gasping for breath, dying. Ambulance sirens echoed day and night. The dead were buried hurriedly and without ceremony.
We watched prayerfully from our kitchens, hoping to be spared the worst of a disease that was rampaging first through China then Europe. Yet we suspected it was already raging through our country like a wildfire. Seemingly overnight, our hospitals were full, we'd donned masks and our economy was locked down.
At Midnight on March 24, 2020, we were sadly ordered to close the doors of Furniture Consignment Gallery, uncertain when we'd open them again.
Like many Americans, I spent the first week cleaning my yard. Week two, I took a chainsaw to clear out the debris in the woods behind one of our stores. Sweaty manual labor was a kind of a salve to my anxiety. By summer, I thought, this virus will wither away like a dandelion hit with a shot of weed killer. I was wrong.
Covid was declared a national emergency a year ago. This week marks a full twelve months of grief, confusion, loss, fear and strife. We'll be living with the far-reaching impact of this pandemic on our lives, our culture, and our economy for years to come.
And, yet, there were some bright spots in the midst of this tragedy.
FCG survived the lockdown, thanks to our amazing staff and supportive customers. Staffers met every challenge of reopening with determination. They endured the annoyance of eight-hour days behind a mask. They sanitized endlessly. They respectfully maintained the appropriate social distance to insure our customers' and their fellow staffers' safety.
Our customers proved their loyalty. Though our doors were closed, they continued to find fabulous bargains in our stores, online and in droves. They trusted FCG, knowing our brand stands for quality furniture. That is an extraordinary accomplishment, one that makes me proud of our team and its work over the last sixteen years.
No one can predict what the next few months will hold for us as vaccine distribution accelerates and the threat of widespread disease abates. For now, I can say with great relief, FCG made it through and I'm grateful.