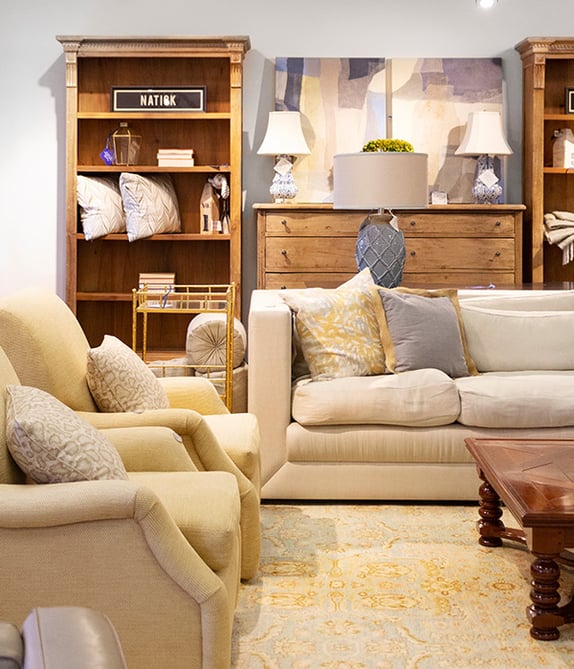 Moments after we unlocked the door, he burst into the store like a gunslinger looking for a brawl in an old Western. "It's go time," he barked at us. "We're moving!
Apparently, this man was used to issuing orders and commanding action. He'd emailed FCG a day ago offering furniture for consignment, along with a vague threat to find other options if we didn't comply quickly. I'd answered his email that morning while having my coffee at home.
Apparently, my response wasn't fast enough for him. By the time I got to the store in Hanover, there were five emails from him, each one increasingly annoyed.
7:15 AM: "When can you pick up the furniture?
7:28 AM: "We're ready. When will I hear from someone?"
8:17 AM "Any chance of today?"
8:42 AM "Can someone get back to me?"
9:08 AM "Hello….???!!!"
And, now, here he was like some Deadeye McGraw staring down the barrel of a gun at 9:53 AM.
We get it. There's a real estate frenzy underway and homes are selling faster than a speeding bullet. This man had a hard deadline to move out of his home, and he was getting more anxious by the minute. At FCG, we're ready and eager to help. Here are some tips that might take some of the stress out of a highly charged situation:
Be prepared for fast action. Expect a rapid series of showings, multiple offers and aggressive buyers. Start the process of paring down prior to listing your home. .




Be organized. Check first with family to see if they have interest in pieces that are sentimental to you. Storage is expensive and in short supply. Parting with the items may be necessary.




Create a list with photos of the items you'd like to consign. Remember: the better organized, the less panic. If you're good with spreadsheets this is the perfect time to put that expertise to good use.




Should your homebuyer show interest in your furnishings, give them a firm deadline to decide. If they drag their feet or appear unsure, got to the next option.

Leave yourself your essentials until you're walking out the door. Selling off your bed when you need a place to sleep creates stress too. Be efficient, but keep enough to stay comfortable.