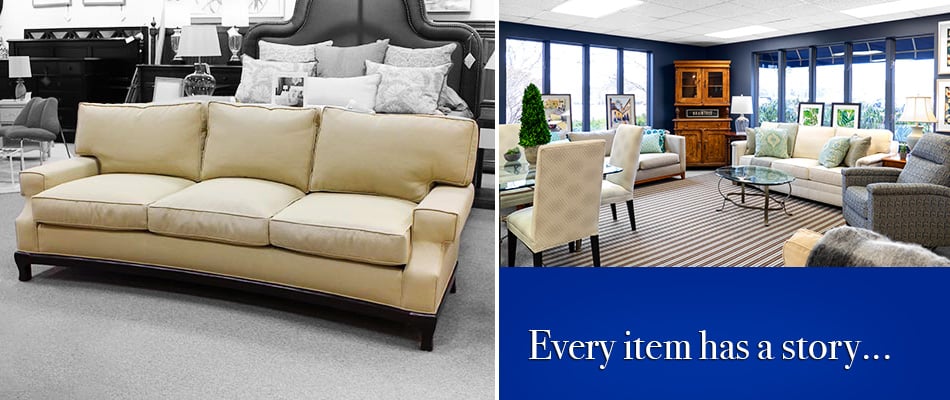 Our delivery men tenderly carried it into the showroom. It was a gem of a sofa, A.Rudin, custom ordered from the Boston Design Center at a cost of more than $7,000. And it was worth every penny. The sofa was a soft buttery color. Everything about it – the solid wood ebonized frame, the thick cushions – whispered luxury and comfort.

"There's got to be some sort of flaw," I murmured to myself. "No one could possibly want to consign such a perfect piece of furniture."

I couldn't detect even the slightest sign of wear on that A.Rudin. No derriere had ever wiggled into any of the seat cushions, no shoulder had ever rested against the back. No one had ever, it seemed, sprawled the length of the sofa reading a book or chatting on the phone.

I pulled the cushions off and flipped them over to examine the sofa in closer detail, and that's when I found the evidence: a pale pink stain, the telltale sign of a red-wine spill.

I couldn't help but envision the scene: a young professional couple, newly flush with cash after a big promotion. They'd hired an interior designer, then waited months for their urban loft to be completely furnished. After six months of anticipation, the last piece to arrive was the A.Rudin.

They rushed home from work the day it was delivered. "Let's celebrate!" they cried, uncorking a cabernet sauvignon they'd brought home from that honeymoon tour of Napa Valley. They cuddled on the couch, clinking glasses and giggling over their good fortune. Then, a little tipsy, one of them tipped a glass slightly, just enough to soak a cushion with a splash of cab.

Red wine is a homemaker's most dreaded stain, almost impossible to remove completely. The young couple dashed for towels to mop up the excess, then blotted and fretted for an hour. She went to bed with a headache. He urgently texted the interior designer.

From her, he would learn the new homeowner's hardest lesson. All new things – so perfect when they first arrive – will eventually be stained, chipped, dented and worn.

"Patina is more valuable than perfection," the wise designer said. "All those spots and dents on your furniture will remind you of special moments in your life. My best advice is to flip the cushion over and forget about the stain. The sofa is even more beautiful than it was three hours ago."

Visit our Natick showroom this weekend and take a look at the A.Rudin. It is gorgeous, and you'll barely notice the tiniest pink stain on the underside of the cushion. Every item in our showroom has a story. After all, they are consigned from homes all over New England. In the case of the A.Rudin, you can enjoy my story – or make up one of your own.