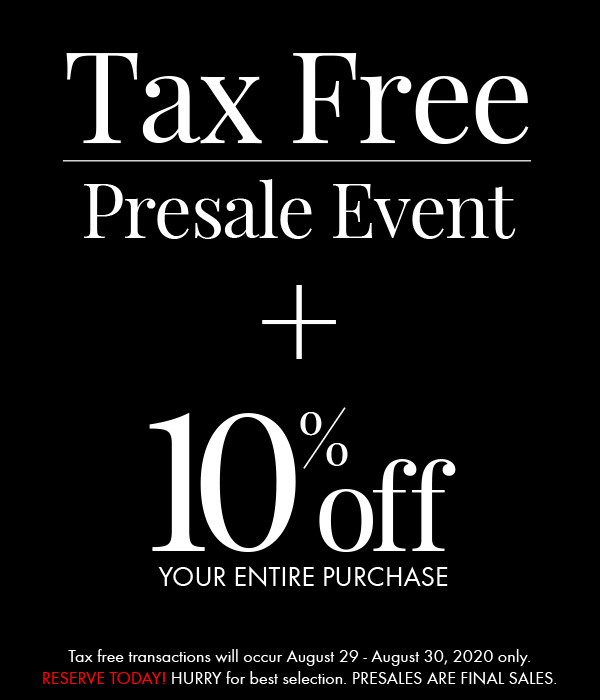 It's almost time to surrender summer. Look, and you'll see the signs everywhere. We've sampled all the flavors at the local ice cream shop. The sumac is starting to blush, a hint of the color that will soon blanket New England. And the annual tax free shopping weekend is almost here.

This year, the Commonwealth of Massachusetts has declared a tax-free shopping holiday for Saturday, Aug. 29th and Sunday, Aug.30th.

At FCG, we're already in high gear preparing for the event. And, when we throw open the doors of our three stores in Hanover, Natick and Plymouth, they'll be chock full of New England's finest pre-owned furniture.

Here are five tips for those who might be new to our event:

• Don't wait until next weekend to start feathering your nest. After all, the best items fly out of our stores quickly. So shop now! Stop by our stores or go online and reserve the furniture and accessories you want. We'll wait until next weekend to process your payment so you can take advantage of the tax savings.


• You've got options for delivery or pick-up. We can schedule your delivery for a small fee after the tax-free weekend. Or you can pick your items up next weekend. Let us know your preference.


• We're sweetening the deal even more! We're offering an additional 10% off the current price on any item on the store including our mattresses. The sale starts today and ends September 1. Your savings: 16¼ %.


• Remember: All of the state's tax-free weekend restrictions apply.


• This is a big annual tradition at FCG, so we'll be smiling behind our masks. We hope you will be, too.