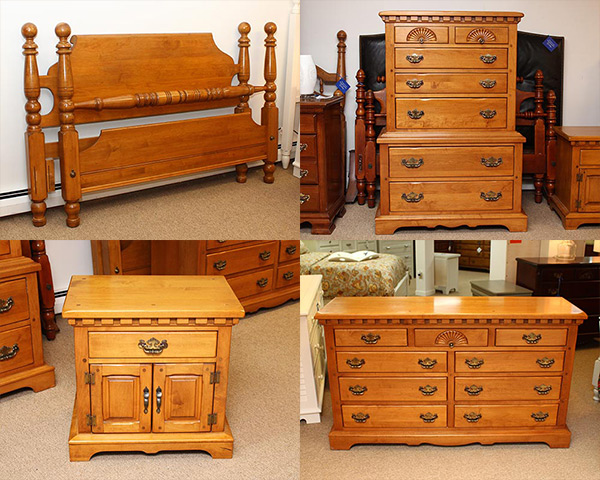 In the simmering heat of early September, Matt and Noah, our furniture movers, were wrestling with a big job at our store in Plymouth. We'd just gotten a bedroom set made by Thomas P. Beals of Portland, Maine: a tall chest-on-chest, an armoire, a nightstand, a dresser and a queen headboard and footboard with posts as thick as tree trunks.

Moving the heavy rock-maple set into the showroom was as exhausting as breaking rocks. They paused on ground level, their faced streaked with sweat, before tackling the stairs to the next floor where our bedroom sets are displayed. "Hey, guys," I called across the showroom. "Let's just keep it here."

Exhausted, they nodded their appreciation and took off before I could change my mind.

Thomas P. Beals is a big name in finely crafted American furniture. Beals was born in a seaside village in Maine and learned furniture-making as an teenage apprentice before joining the Maine Volunteer Infantry to fight in the Civil War. He fought in seven battles, including Petersburg, which would prove to be a critical victory for the Union. He was wounded there.

After the war, he came home and launched what would become one of the most successful businesses in New England of the late Victorian Era. Beals favored oak, ash, birch and later maple. So popular was his furniture that his company shipped it all over New England and as far south as Florida which was even then a destination for robber barons and common folk in search of sun, sand and the talismanic orange.

Today, Beals is revered not only for his service to the nation but for his commitment to quality in furniture-making. His dovetail drawers close with buttery softness. His dentil molding is precise. Beals took no shortcuts in making furniture.

At FCG, we move hundreds of pieces of furniture through our showrooms every week. Every now and then, I like to pause to appreciate some of these pieces for the role they – and their makers – hold in our nation's history. Beals' bedroom set is something we're proud to have on our showroom floor, if only for a short time.