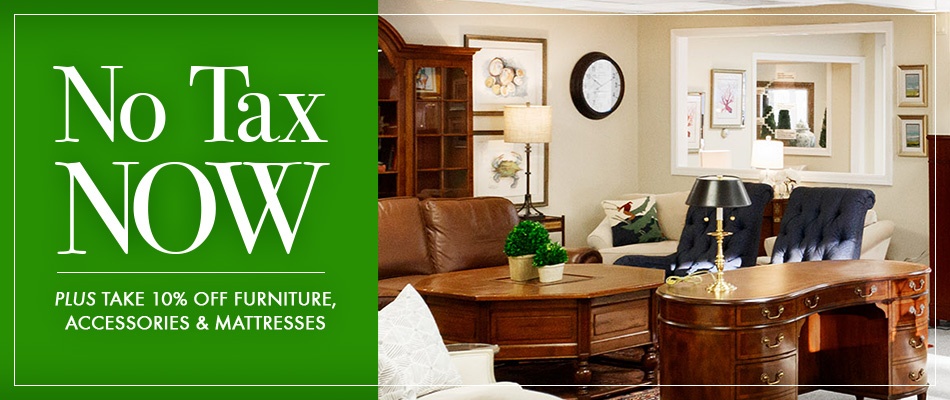 Taxes were the spark that ignited the American Revolution. Colonists had wearied of paying a ransom to a king thousands of miles away. So they grabbed their muskets and fought to throw off the yoke of "taxation without representation".

Today, most of us feel just as burdened by taxes. Congress has a miserable 18% approval rating. Like the colonists, you probably think that taxes are too high and our leaders are spending the money recklessly.

So hear ye, hear ye!

Keep your tax money in your wallet this weekend. The State of Massachusetts has declared August 11th and 12th a sales-tax holiday. Any item priced under $2,500 is free from sales tax.

Thank you, Commonwealth.

At Furniture Consignment Gallery, we are making that sweet deal even sweeter. We're reducing prices 10% of on all furniture, accessories and mattresses.

We've been preparing for this event for weeks. We've traveling all over New England scooping up the most incredible pre-owned furniture. Last week, we scored truckloads of new furniture from an estate in Wayland, Massachusetts - pieces so new they were delivered only a few weeks ago. That house had bought all the top brand names: Arhaus, South Cone, Restoration Hardware, Baker, and Mitchell Gold.

We also raided homes in Wellesley, Marblehead and Duxbury. We plundered high-rises in Boston and grand waterfront homes in Cohasset. Check out our inventory online. I promise, you won't pay a king's ransom for these treasures.

This weekend only, you don't need a musket to win your freedom. The Commonwealth is giving you a two-day pass. You'll save 6.25% on your purchases. Nobody has the deals or the inventory that we have at FCG. So come on in and enjoy the revolution.