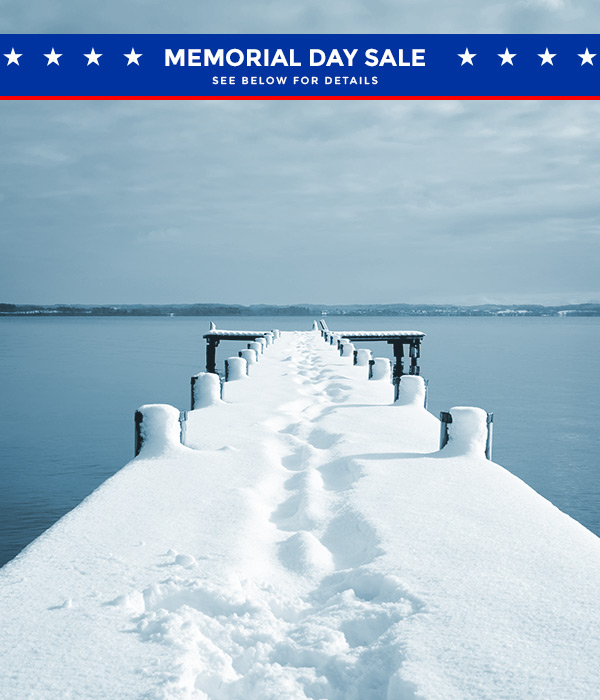 Shivering with hypothermia, I was standing in the Lake Ossipee in New Hampshire, holding a section of the boat dock and trying hard not to let my teeth chatter. My dad was taking a sledgehammer to the galvanized post that would support the dock. "Just … a…couple…more," he gasped, breathless from the effort of trying to drill the pipe into the rocky bottom of the lake.

Ah, good times. When I was a teenager, helping my dad put the dock in the water at the lake house was the top item on the agenda every Memorial Day. As much I couldn't wait to get out on the boat, setting up the dock was agony. After all, the ice had melted only five weeks ago.

The water was probably about 60°, and I was chest-deep by the time we got to the final section. It was hard to keep my balance. My feet kept sliding off the granite rocks into the soft mucky bottom of the lake. With both hands gripping the dock, I couldn't swat away the black flies that buzzed around my head, tormenting me. As I said, agony.

Memorial Day is the unofficial start of summer in New England, but let's be honest. Nothing is easy in these parts. It's hard work getting set up for summer. Who hasn't cracked their forehead on the bulkhead of the basement while trying to wrestle the patio furniture outside? Clean the grill? Now, there's a mess. And the badminton net is such a tangled skein that you're probably better off torching it in the fire pit and buying a new one.

You need a reward! So FCG is having a sale. We're taking 15% off some merchandise to clear out the showroom now through the close of business Tuesday. As you start making those plans to entertain this summer, why not update your home? Replace those rickety kitchen chairs and that wobbly table. Say goodbye to that pizza-stained sofa in the family room. Toss that old mattress that is flatter than a pancake.

FCG is offers quality furniture with prices that are 40% to 80% off of the original retail. Our stores are full of great items. But remember: when we run a sale, the best stuff goes fast. So this weekend hit us on the way out of town instead of the way back. But if you can't get "heah" from "theah" until after the holiday weekend, FCG will still have lots of bargains available all day Tuesday.