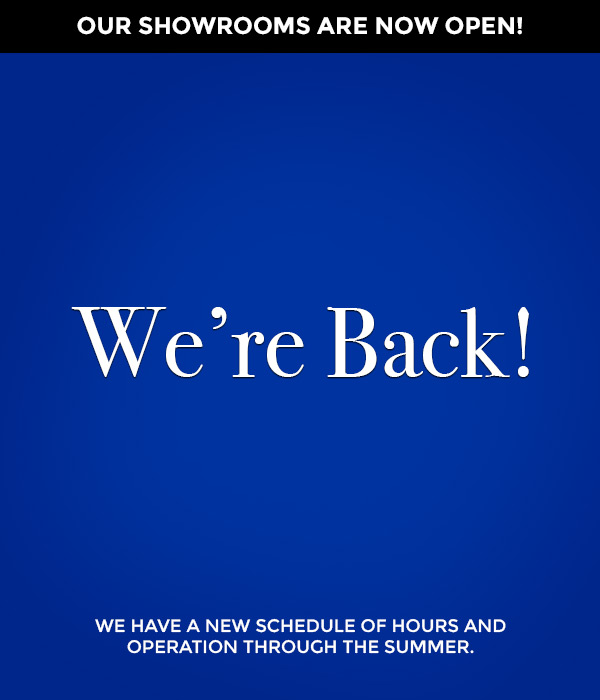 Finally, the doors are open once again at FCG!

Last Monday, Massachusetts' governor gave the order allowing retailers to open their doors to the public. For weeks, I'd been hoping for – and fretting about – that moment. I knew it wouldn't be business as usual, post-lockdown, but I wasn't quite sure what the new normal would be like for you, our customers, or us at FCG.

So we're taking it one day at a time, working diligently to protect the health of our employees and our customers. And, after five days back in business, we've learned a few things.

First, let's just acknowledge that everyone hates the face masks, which are mandatory in Massachusetts. We hate them. You hate them. Everyone wears one walking into our stores, but yanks it down to talk to staff at the service counter. Please, for your safety and ours, keep your mask on while in any of our three stores. This is the key to preventing more cases of Covid-19.

FCG is strict about social distancing. Our customers are, too, until they want to show us photos of the furniture they want to sell. Please, don't give us your cell phone and ask us to swipe through the photos. For now, that's just too dangerous. Email the photos to FCG! (And a reminder: FCG won't accept your Queen Anne dining set or your TV armoire. That's dangerous, too: dangerously out-of-date.)

FCG prides itself on its customer service and, until recently, our staffers were quick to offer our customers help loading their newly-bought furniture into their cars. Sadly, we aren't able to do that during this pandemic. We're looking forward to the day when we can resume the kind of white-glove service we're famous for.

We've also modified the hours our stores are open to the shopping public. FCG's stores in Hanover and Natick will be open Tuesday through Saturday from 10 a.m. to 6 p.m. Those stores will be closed on Sundays.

Mondays will be reserved for shopping by appointment only in Hanover and Natick. Any customers who are over 60 or at high risk of infection, please make an appointment to shop on Monday. We're eager to protect your health and offer you the opportunity to shop with fewer folks in the store.

Our Plymouth store is operating on a slightly different schedule. It will be open Wednesday through Saturday from 10 a.m. until 6 p.m. Plymouth will be closed Sunday and Monday. Appointment-only shopping will be on Tuesday.

Despite the new restrictions and hours, we're proud we've been able to maintain one certainty. Our showrooms always have been and always will be stocked with beautiful furniture at great prices, and there's always more on the way.