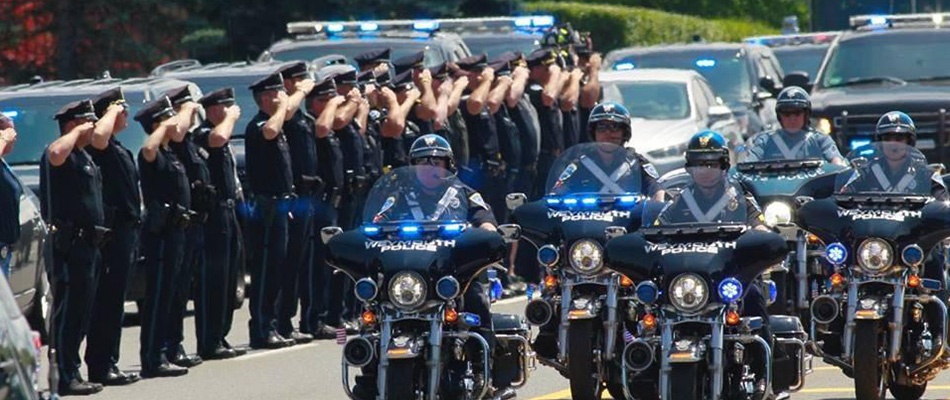 In Hanover, MA, hometown of FCG, it's anything but business as usual this week. In fact, I'm setting aside the usual funny blog fare this week to honor the loss of Sergeant Michael Chesna, who was shot and killed in the line of duty on Sunday.

Sgt. Chesna, 42, was just finishing his night shift early when he confronted a 20-year-old man who allegedly was throwing rocks early that morning at a home in Weymouth. When Chesna ordered the man to stop, the man hurled a rock at his head, knocking the officer to the ground, according to published reports. The suspect then allegedly took the officer's gun, shooting and killing Chesna.

Sgt. Chesna leaves behind a wife and two young children. He was a decorated U.S. Army veteran who had served two tours with the 10th Mountain Division. He was laid to rest this week after a funeral Mass at St. Mary's of the Sacred Heart in Hanover, my family's parish.

About 3,000 police officers from all over New England paid their last respects to Chesna on Thursday in a silent and somber ritual, standing at attention outside the church. My three boys and I rode our bikes over. Just to be there. You could hear nothing but the movement of the officers feet as they shuffled, in formation, in and out of the cathedral. The silence was powerful. Earlier, an endless wave of blue – uniformed police on motorcycles – had ridden down the main street of town.

In a small way, our family helped honor Sgt. Chesna. My son and his soccer team handed out water bottles to officers the morning of the funeral. We raised the flag in front of our store and placed large blue ribbons along the roadway as did other businesses and members of the community.

Whatever little we all did, it's not nearly enough. A young woman is a widow. Two children are fatherless. A community is left without a dedicated police officer. Today, the world seems a little sadder.
Image credit: Greg Derr -The Patriot Ledger