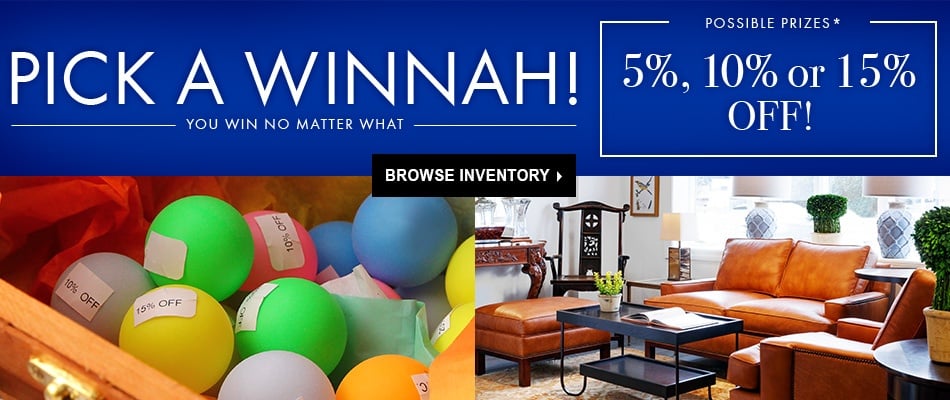 It's back!

Last year's promotion, "Pick-a-Winnah," was such a hit that we're going to run it again all weekend at Furniture Consignment Gallery.

Have you forgotten how it works? Here's a quick primer: Stop into any of our three showrooms, find an item you want to buy, and take the tag to the register. That's where you get to pick-a winnah.

At FCG, you're guaranteed to win unlike that bet you may have put on this weekend's Preakness. At the register, you'll reach into a box and select a ping pong ball. On it will be written 5%, 10% or 15%, which we'll immediately take off your purchase.

Like all promotions, we have some rules. You only get one pick. And you can't combine your discount with any other promotional offer. If you like the amount of your discount, keep on shopping! Once you leave the store, though, your discount is invalid.

What exactly does that mean? Well, it means you can't come back the next day to use your discount on a shopping spree. You don't get to go home, take a nap, hear instructions from a heavenly choir, and hurry back to buy that buttery leather chair for an amazing price. The discount is only good while you are in our stores.

You can use the discount to buy a new mattress, a pair of lamps, a new dining table, a bedroom set or a sectional for the living room. You can use it to buy something small, like our popular Dixie Belle chalk paint. Or you can splurge on a whole-house makeover.

But, for goodness sake, use it to buy something! Come to FCG and Pick-A-Winna and take a fine piece of furniture home with you today. This promotion ends at the close of business on Sunday.
*In-store only. Phone order discount is 5%. Discount applies at time of sale, to total sale. Can only be used once per visit. Cannot be combined with any other offer or promotion. Cannot be used on prior purchases. Sale ends Sunday June 10, 2018.http://www.furnitureconsignment.com/