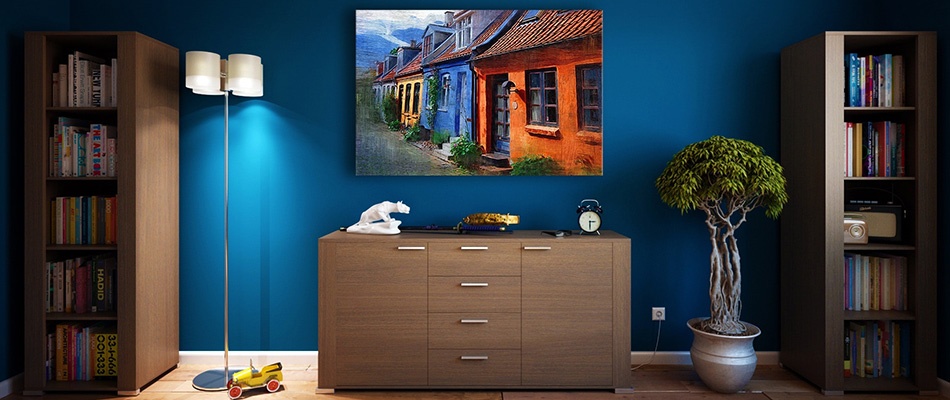 "I'm afraid to make a mistake."

Judging from her expression, that was an understatement. She wasn't merely afraid of a decorating faux pas, she was petrified and, as a result, paralyzed. Standing in our showroom, she looked like she was about to cry.

Her anxiety was understandable. Now that the kids were grown, she and her husband were moving from the big empty colonial to a townhouse in a golf community. "He's worked hard all his life and this is what he wants," she said. "I want him to be happy."

Her expression betrayed her true feelings, though. She, too, was ready for a change, but was this was the right change? Her mind was churning with worry. Would they miss the old neighborhood? Would they make new friends?

All those unspoken anxieties were fueling her decorating paralysis. Should she repaint the blue wall in the new kitchen? The floors in the new house were a yellowish oak; her dining room table is a rich espresso color. Would that combo look weird?

Even more importantly, how could she artfully integrate certain pieces of furniture from her colonial into a townhouse designed for casual living?

At FCG, she got not only a sympathetic ear, but some valuable tips to help her make the transition with less stress. Since many of you might be thinking of a similar move in the future, I thought we'd share our collective wisdom.

1. First, relax. Decorating to please your new neighbors would be a mistake. Your home should be a reflection of you, a refuge that comforts you like a cozy blanket.
2. Don't buy upholstery online. Tempting though that may be, you will want a sofa that's comfortable. How will you know? Sit on it. Sprawl like you will during the Super Bowl. You can't make decisions on comfort from an online photo.
3. Buy quality. Trendy looks are fun but there's nothing quite like a well-made piece of furniture. Yes, quality is more expensive, but you'll never regret it. You will, however, be full of regret when the cheap foam-filled sofa sags or that chair breaks under the weight of a guest at Thanksgiving.
4. Embrace color. Consider a dash of orange or cobalt blue. Have fun. What happens when you're frozen with fear? You play it safe: white walls, gray sofa. That's blah.
5. Don't replace, restore. Take some of the most meaningful pieces of furniture with you to your new home. Then, give those pieces a fresh look by painting, refinishing or reupholstering.
6. Feature your family. Nothing is more intriguing than family photos. Frame them tastefully, place them strategically. You can't go wrong when you center your decorating around those who mean the most to you.