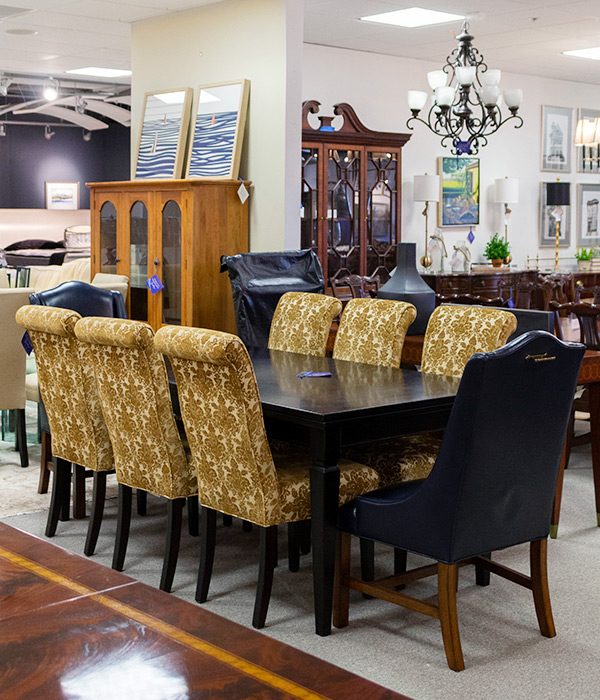 Psssst! Here's a secret … buying pre-owned furniture is one of the hottest national trends of the fall. And FCG is riding the wave in a big way.

Homeowners are adapting to the new normal, and they want to be prepared for a cozy season of homeschooling and zoom meetings from the dining room. Sprucing up the nest is a high priority. Still, given the economic uncertainty of the next few months, they're also looking for bargains.

Meanwhile, city dwellers are moving out in droves, snapping up homes in the suburbs or in spots that used to be weekend getaways. No one wants to spend a winter in a cramped apartment or condo. They're eager to consign their stylish and often little-used furniture because it won't fit the new cottage in the mountains or on the Cape.

All this means big opportunities for FCG and for our customers. Thanks to all that moving, our stores are brimming with an eclectic mix of traditional and contemporary high-quality pre-owned furniture in every style and brand.

FCG, of course, has been one of the first champions of this pre-owned trend in the market. And that is very significant for you, our customers.

Over the last fifteen years, we've learned exactly how to choose the best consignment furniture for our three showrooms in Hanover, Plymouth and Natick – and we've learned how to price it competitively. Smart buyers know we've got furniture in pristine condition from meticulous homes all over New England.

Sure, there's plenty of cheap furniture flooding Facebook Marketplace and the popular app NextDoor. But there's also a lot of saggy plaid sofas with soiled arms and cigarette burns on those sites. Also, do you really want to waste your weekend in a fruitless hunt for a random piece of furniture that wasn't quite what was promised on Marketplace? Of course not!

Besides, it's awkward flipping sofa cushions or wiggling your fanny on a chair in someone else's home. At FCG, you can linger on our sofas until you're convinced that that's exactly where you'll want to spend Super Bowl Sunday. Take your time. Make sure the furniture is right for you and your family.

Our talented salespeople are full of ideas that will help you furnish your home so it reflects your personal style. So take a drive this weekend and visit one – or all three – of our stores. We're chock full of furniture bargains and exciting home accessories that will make your home a special place.