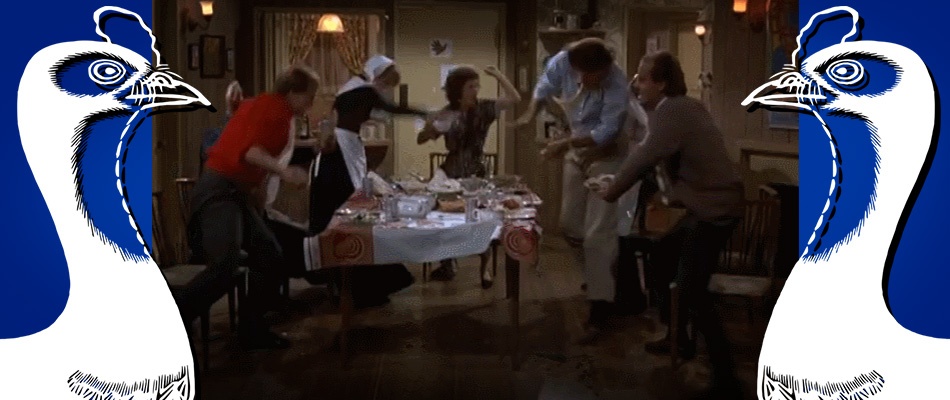 Buckle up, folks. It's T-12, and everyone's already on edge.

By that, I mean we've got just twelve more days till Thanksgiving, that gluttonous national holiday when families gather around the dining table to gnaw on some turkey while waging verbal combat over politics, religion, sports and any number of other formerly innocuous topics. Even the weather is off-limits with the looming threat of global warming.

So what topic is safe? Admittedly, there are very few.

Consider what happened to my family a few years ago. We'd driven sixteen hours to Kentucky to spend the holiday with Diana's family. I stayed awake by listening to radio talk shows. One, in particular, inspired me. Thanksgiving, the host proclaimed, was the perfect time to discuss end-of-life issues with older relatives.

So I decided to broach that topic with my in-laws over pumpkin pie. "Have you made your final plans?" I asked cheerfully.

"Glad you asked!" Papa, an Army veteran, said forcefully. "I've given this some thought. And I'd like my ashes to be spread over Nancy."

His wife – Diana's step-mother – is named Becky.

Pandemonium erupted.

Startled, Papa hastily explained that Nancy, Kentucky is the home to one of the nation's oldest national cemeteries. Some 4,000 veterans are buried there, and he wants to be one of them.

My advice: be prepared this Thanksgiving. After all, we're a divided nation.

Short of issuing a gag order to your most outspoken family members, I think the best defense is to make sure your furniture is sturdy enough to survive the fray. Depending on the heat of the topic, your gathering may include some banging on the table or upending of chairs. A really rampaging relative may start jumping on the sofa. If you're making purchases this weekend, think for a moment that discount furniture might not make it to desert.

For the best selection of high-quality, well-made pre-owned furniture in New England, stop by one of our three stores this weekend. In honor of Papa and all veterans, FCG is offering all shoppers 15% off any item in our showrooms now through Monday.

*Image from "Cheers" television show.