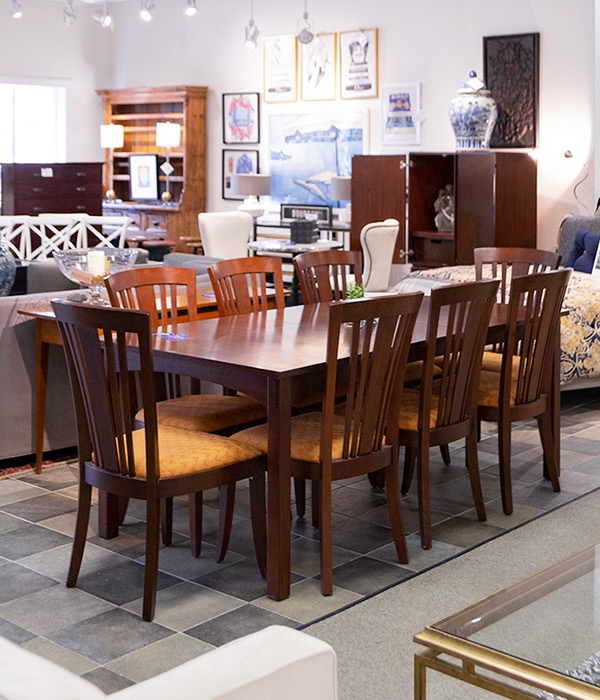 Your home is your refuge – especially in times of crisis.

Few things are more comforting than closing the door on the world and settling into a warm and welcoming place. And that's exactly what the health experts are advising all of us to do for the next few weeks. Schoolkids are happily embracing the concept of an extended family quarantine, calling it a "corona-cation."

Many companies are ordering employees to work from home. Still, with the global economy at a near-standstill, you may find yourself with plenty of time for binge-watching movies on your cozy couch.

But what if there is no cozy couch? What if your couch is lumpy and stained? What if your nest needs a little feathering?

I've got the perfect solution: furnitureconsignment.com.

If your home office happens to be your kitchen table with the usual coffee stains and toast crumbs, you might want to consider a chic new arrival in Hanover: a white desk and chair from Pottery Barn.

If the kids' rec room needs a stylish boost so your teens with be comfortable in their marathon gaming sessions, check out the extraordinary circular chair-and-a-half in silver upholstery from Mitchell Gold at our store in Natick. It's big enough for two or three to lounge on at the same time.

And if you're longing for the good ol' days when toilet paper was plentiful and grocery stores were fully stocked with canned goods, then check out the antique oak case crank telephone at our store in Plymouth.

Best of all, FCG delivers. So you can relax and browse, then order everything you need for your home from the comfort of your leather La-Z-Boy Oscar Power Recliner. What? You don't have one? Well, FCG does – at the store in Plymouth.

Or, better yet, stop by our stores. Like all responsible retailers, we're talking measures to clean all surfaces more frequently. We will chat about your home project from a respectful distance and we'll offer our best ideas. We're open as usual, and we'd love you to stop by.