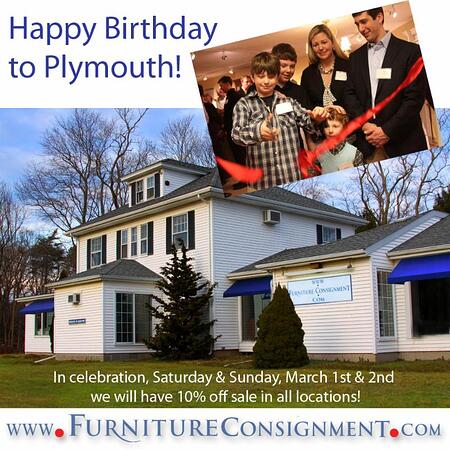 "It's like having a baby." That's how my wife Diana described the opening of our third store last year. She nailed it with that metaphor. Opening a store means months of anticipation punctuated by bouts of intense anxiety. There are predictable checkpoints along the way - and a few unexpected surprises thrown in for good measure. And once the new addition is here, you can't imagine life without it.
This weekend marks the one-year anniversary of our showroom in Plymouth. Diana and I and our three boys cut the blue ribbon at our opening, surrounded by family, friends and staffers. Then, we turned the enterprise over to our hardworking and ambitious team.
How that team came together sometimes seems like a mystery. Denise knocked on the door when we were painting the vast, empty store. She walked in, grabbed a brush and never left. Donna brought a combustible energy and a great sense of design. Rebecca contributed her superb artistic skills, photographing every item for the website. Nick, Cory and Tevin, our movers, fill the showroom with furniture week after week - and help customers fit their treasures into their vehicles.
And, of course, there's Brad, showman extraordinaire. He moved from sunny Florida to snowy Massachusetts to pursue his lifelong dream of managing a furniture store - and to indulge in some sibling rivalry. His twin brother, Ron, manages our store in Hanover. Over the past year, Brad has created a team, a culture and a shopping experience as exciting as any in the furniture business.
If you haven't yet visited Plymouth, this is the weekend to go. The one-year anniversary sale starts now. Take 10% off anything in the showroom! In fact, the more bargains, the merrier! Take 10% off at our stores in Hanover and Chestnut Hill, too. See below for details.
Anniversary Sale Details:
The Sale Starts Now and ends at 5PM on Sunday March 2, 2014.
Customers can take 10% off the current price in any of our three showrooms.
Items scheduled for a 10% markdown during the sale event are not eligible for further discounting.
Final Markdown Items are not eligible for further discounting.
Purchases from multiple showrooms can be bundled together into a single delivery for an extra fee.
Our doors open at 10AM today. The phones are ready, staffers will be on hand and the stores are packed with beautiful pieces.
Come celebrate with us!