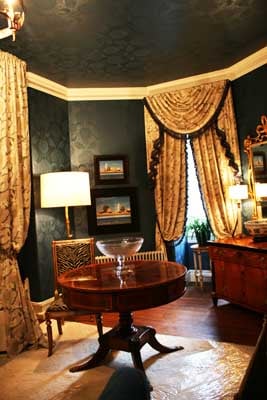 I have strong opinions – and so does my wife, Diana. When we disagree, the staff runs for cover. After nearly ten years of running a business together, we're pretty good at verbal sparring. Our arguments can be intense, animated and loud. (Hey, I'm Italian!) At the end of the day, though, we always remember Rule #1: Don't take the business home.
One topic is sparking debate – and we haven't resolved it yet. Does staging help sell a home? Staging is the art of editing and arranging furniture and eliminating clutter to make a house more appealing to buyers. Professional stagers buy or rent furniture and accessories such as art to enhance a home. Many of Boston's top stagers are customers of FCG.
Since we're selling our own home – and we have three stores of furniture from which to borrow – this is just theoretical. I'm in favor of staging. Here's why:
I think reducing

clutter allows buyers to visualize how they would live in your home. I think buyers find clutter distracting, cementing the idea that it's your home – not theirs.
I think that bright, neutral paint and lots of lighting make a house more appealing to potential buyers – even if they are privately planning to paint the dining room a deep shade of eggplant later.
I think less is more. Scaling down the furniture makes a house look bigger, in my view, giving buyers the impression they are getting more house for their buck.

I think it is important to

put those antiques in storage and update the

furniture because most buyers, especially younger ones buying a starter home, want a more modern look.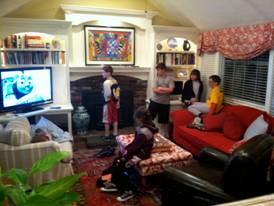 Diana disagrees. Here's her view
Clutter is irrelevant.

She believes potential buyers are capable of seeing beyond the framed kids' art and the hockey gear and imagining themselves in a home.
She says buyers can imagine a room emptied of its weary-looking wing chairs and filled with their own chic furniture. In fact, she believes, pandering to some imagined buyer's style preference is a waste of time, money and energy.

Staging is fake – and hard on sellers. She insists that buyers' decisions about which house to buy are based more on complex issues such as the size and layout of a house, the neighborhood, the yard, the town, and the school system. You can't gussy those up with staging.
So what do you think of our great debate? You can flee – like our staffers – or you can jump in and let us know. Take our survey about staging and we'll post the results for you in a couple of days.