We are one week away from the Massachusetts 2010 Tax Free Holiday Weekend which takes place on August 14 & 15th. The deals and values will be great every where you look this year.
In sifting through all of the opportunities that will be flashed in front of your eyes this week, why should you buy your items on consignment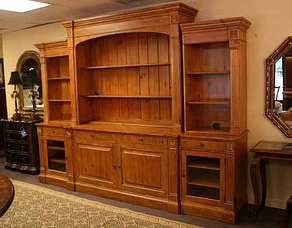 next weekend? The primary reason is that the values are much better. The best example of this is an Ethan Allen entertainment armoire which appears to sell in Ethan Allen's catalog for more than $7,000. It has a mechanism in the base that raises your flat screen by remote control. In our store on consignment this piece is selling for $2,499.
The kicker is that the maximum allowable sale price that is exempt from the Sale Tax next weekend is $2,500. You can read the rules of the Sales Tax Holiday on the Massachusetts DOR website. Because this piece sells for more than $2,500 if purchased new from Ethan Allen, it is not eligible for the tax exemption. Now the deal on this piece is so good that it may not last to the weekend (we only have one of each item). But, the point is that the smart consumer who buys this piece on consignment will get a great buy and would qualify for the tax exemption.
There are many similar deals in our store and others. Be a smart shopper and do yourself the ultimate favor of checking your favorite resale shop before you buy next weekend. You never know what you will find and the value is sure to be better.