Today, a consignor challenged me on a very sensitive topic.
"You know, Jay," she said, "your competitor pays 5% more to the consignor than you do." I thought I was going to get a good ol' browbeating, but instead she told me why she chose us – despite the difference in fees.
Her reasons were simple and they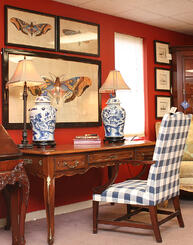 made sense. For one, she appreciates our marketing. From our website to our magazine advertisements, she said our efforts indicate an appreciation for quality. Our marketing says a lot about the way we run our business, she told me. She said she could tell that we care – a lot – about beautiful furniture. And she believes we also care about the quality of our sales staff, the look of our showroom and, very importantly, the satisfaction of our buyers. Because they are the ones who keep coming back to find those special pieces on our showroom – and they bring their friends.
I know she is right, but I also felt that there are many other ways we justify our service fee of 45%. Our focus is to sell furniture and only furniture. We don't accept china, silverware, jewelry, clothing or other small items. Of course, we know how to dress a table with a silver bowl or a floral arrangement so that it will stand out in the showroom, but we don't do Hummels. We are, first and foremost, specialists in quality furniture. Isn't it worth the extra 5% to show your beloved mahogany desk in a showroom that isn't cluttered with figurines from the 1950s?
We take care to merchandise our furniture cleverly so that customers can visualize how an item will look in their home. Our talented stylists place pieces in vignettes, creating a cozy and welcoming atmosphere. We will dress a beautiful bed with a mattress, a fashionable comforter and even pillows and a bed skirt to help buyers imagine re-doing their bedrooms. Our showroom is constantly evolving – like a movie set – but we know this is an enticing draw for buyers. Isn't that worth an extra 5%?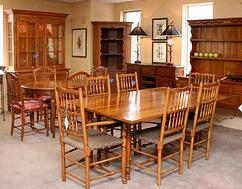 Our furniture is photographed as soon as it arrives and the photos are displayed online. Our website gets over 12,000 unique visitors a week exploring our inventory! We upload as many as ten different photos taken from every angle to give buyers a close-up of the furniture we are selling. Our entire staff contributes to the website, which is a hugely effective marketing tool, spurring sales to customers as far away as Wisconsin and Florida. Isn't this worth an extra 5%?
Our skillful marketing helps us sell furniture that has stalled in other consignment shops. Incredibly, we have picked up furniture that has languished at other consignment shops – and then sold the item within a week, in our store, for a higher price.
We could lower our fee and offer consignors a higher rate if we eliminated our stylists and our web photographers. We could clutter up the showroom with the small stuff. But we have made a conscious decision to focus on building a quality consignment business. And here's the payoff for you: at Furniture Consignment Gallery in Hanover, your furniture sells faster and for a higher price than it would with our competitors. Now, that's worth the extra 5%!
Also follow us at: