"Reproduction" is a bad word in the furniture world, but it shouldn't be.
This week, we were graced by the presence of a haughty designer who scoffed at an incredibly gorgeous Bombay Chest on the showroom floor of Furniture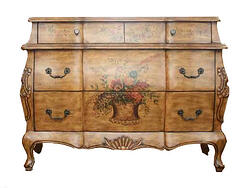 Consignment Gallery. "That's a reproduction," she sniffed, "and it is overpriced."
An hour later, the chest sold to a buyer who loved it and thought it was a great buy. It was, of course, a reproduction. The original Bombay or "bombe" chests were crafted in France during the Regency Period. These chests have a distinctive bowed shape and are often embellished with colorful designs of flowers, exotic birds or chinoiserie. Every fashionable home in Paris had one in the early 1700s.
We think this incident is worth talking about because many people get caught up in the semantics of furniture "reproductions". I recall a customer who walked around our store, pointing out each piece and demanding to know if it was a reproduction. I saw where this was going and I tried to explain gently that everything in our store is a reproduction. In fact, just about all furniture is a reproduction of something.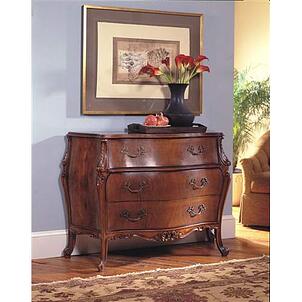 "Reproduction" simply means that an idea, concept or style has been copied and reproduced. Some reproductions are exact replicas of an original piece that you might find in a museum, while others use the concepts of older pieces to create new styles. Large furniture-makers such as Baker and Century are skilled at taking classic styles and giving them a fresh, modern look. Smaller companies such as Eldred Wheeler are renowned for their authentic hand-made reproductions of 18th Century pieces using native woods of Cherry and Tiger Maple. So prized are some of its pieces that collectors wait months – and pay many thousands of dollars – for its reproductions.
So the designer who sneered at the Bombay Chest in our showroom was right – and wrong. That piece was a beautifully crafted reproduction and it was a great bargain. And if we ever do manage to find an original bombe chest that's been hidden for 200 years in some attic in Paris, believe me, we'll let you know.