"I am looking for two red leather sofas and a matching set of chairs with ottoman," the caller said to me on the phone. "Do you have anything like that in the store?"
What an amazing coincidence! Our store had just gotten a red leather living room set that fit his description – perfectly. "We have a beautiful set we just put out on the showroom floor," I told him. His excitement equaled mine. "Great!" he said eagerly. "Don't sell it. I'm on my way to check it out."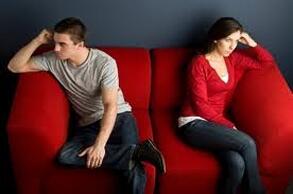 Soon afterward, the man arrived with a digital camera. I thought he was going to show me the furniture he wanted to sell to make room for this great set. Instead, he pulled up photos of the very same furniture sitting in our store.
"This is my furniture," he explained. "My wife and I are going through a divorce. She doesn't have the authority to sell these pieces."
"You've got to be kidding!" I thought, my mind racing. "What a mess." His soon-to-be ex-wife had consigned a lot of items – apparently before the court had finalized a plan to split their assets. Thankfully, after the pair made a few hurried phone calls to their lawyers, they were able to agree that selling their furniture on consignment was a
fair and equitable way to proceed.
That incident was a lesson for me. From now on, when we know a potential customer is divorcing, we will be careful to make sure that person has the right to sell their furniture.
Divorce is painful. That's a certainty. What's less certain is how to handle the task of splitting up the assets acquired in the course of their marriage. For many, the furniture is a particularly excruciating reminder of the hopes and dreams they once shared when setting up house.
That's why selling furniture on consignment after a divorce can be a good solution. Why? There are several reasons:
Less bickering. A third party – namely, the consignment shop – will assess the value of the furniture and price it to sell. No one has to quibble over whether the sectional should have fetched a higher price. The couple – or the court – can decide how to divide the proceeds from the sale.
Less work. The consignment shop will pick up the furniture and take it to the showroom where a talented team of designers and salespeople will set it up and sell it. No one has to deal with the crazies on Craigslist.
Less stigma. No buyer wants to know that the most stunning bedroom set on the showroom floor is being sold because of a divorce. Some might see bad karma in your once-treasured triple-mirror dresser. A consignment shop de-personalizes furniture.
Divorce demands hard decisions. Selling your furniture through a reputable consignment store is one way to make it just a little bit easier.