A handsome couple strolled into our new Chestnut Hill Furniture Consignment Gallery. They appeared stylish and well-to-do, judging from their apparel. Clearly, the wife was on a mission to complete a decorating project, while the husband had the pained and weary look of a man for whom furniture shopping held all the appeal of a root canal.
Then, he spotted it.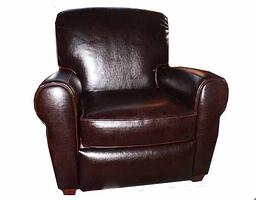 What caught his eye was no ordinary piece of furniture. This was a Bradington Young, a recliner designed for masculine comfort. Big and muscular in its proportions, the chair was made from a chestnut leather so buttery soft that it sang a siren song to every man who drifted into its orbit: "Beer! Cigar! Sports Center!"
Unable to resist, the husband circled the chair, examining it closely as he stroked the gleaming leather. Then, he settled into the recliner with a sigh as if he already owned it.
"Get out of the chair," his wife said tartly, with barely a glance in his direction. "That's not what we're here for."
He tried quickly to assemble an argument to win her over. "I like this chair!" he announced. "In fact, it's nicer than the one I have!" He reached down to examine the price tag: $1,299 – for a recliner that typically commands a much higher price at retail.
Stunned, he turned to me, and asked slowly, "So this is consignment? This chair … it looks like new. Somebody owned it and now they are selling it? I can't believe the price!" He went from first gear to fifth in an instant as he mentally calculated the savings. He leaped out of the chair and began examining everything in the store.
At that moment, I knew we had gained another loyal customer. We specialize in quality furniture consignment. That's a concept that's challenging for some buyers – until they see the extraordinary values in high-end furniture in our showroom. Our new store, Furniture Consignment Gallery on Route 9 in Chestnut Hill, is gaining momentum every day.
And winning converts like that man makes my job all the more fun.