Every now and again something remarkable happens. That special piece that you have been searching for, that you never thought you would find, hits the showroom floor at FCG. When it does, we have some advice for you. Call us immediately to secure the purchase or ask us to place the item on "HOLD" for you! There are some rules around this, but first let me tell you what happened to us last weekend.
A woman left our store extremely unhappy after an item she wanted was sold to another customer. She drove home and posted the following angry message on our store's Facebook page:
"I drove 50 miles (to buy a specific item, only to find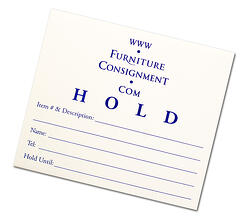 that) another salesperson sold the item right out from under me. My saleslady never stuck up for me, supported me, or even apologized to me. I will never do business with Furniture Consignment Gallery as that was not only my first experience but also my last!"
After investigating the situation, I realized the difficulty of the incident - and we immediately responded to her criticism and offered an apology on Facebook. Here, in part, is what we said:
"Wow - we messed this one up for sure. We don't blame you for being upset... we tripped over ourselves a bit here in trying to accommodate two different buyers. We apologize."
This all unfolded in our Hanover showroom last Saturday when we were crowded with shoppers. "Excuse me," a customer called. "Do you know how much this ottoman is?" After a quick examination we couldn't locate our glossy blue sale tag anywhere. All of our furniture is supposed to be tagged, so a missing tag can mean a few things:
The item might have been sold, but a sales person may not have had a chance to place a "SOLD" sign on it.
Another shopper may have just pulled off the tag to take it to the check-out counter to buy the item.

Ron, our Sales Manager, swears there is a ghost in the store that plays tricks on us and he believes it messes with the tags; so it could be that too!
With no clues to the whereabouts of the missing tag, we printed a new one and sold the ottoman. We completely, overlooked the other customer who was clenching the original tag in her hand. Like I said, we messed this one up.
This is how things sometimes get complicated at the store. Unlike other furniture stores, we don't have ten more in the backroom. And, unlike an auction house, the item doesn't go to the highest bidder. So if you find an item that you have spent your whole life searching for, then it is appropriate to have some urgency! In this case the item in question was a random ottoman that we never thought would cause such a fuss. We underestimated what we know so well to be true and that is that there are a lot of smart shoppers looking for unique pieces. You never know who else is looking at the same item as you; no matter how obscure the piece.
At Furniture Consignment Gallery we try to keep the rules of engagement as open and unimpeded as possible. In a n effort to keep the process fair and reasonable, we do allow our buyers to place items on HOLD for 24 hours in certain situations to mull a purchase. If someone else wants to buy that piece within that 24-hour period, we'll call the individual who put it on HOLD and ask him or her to make a decision about buying it at that time. That's only fair. We want to provide a stress-free environment for buyers, but we also have a responsibility to consignors who have entrusted us with their furniture. Understandably, they want their items sold as quickly as possible.
There are a few more rules.
Items are not eligible for a HOLD on the day of a markdown.
On weekends, we don't put items on HOLD. That's our prime selling time. Scores of buyers will drive to our store to see the furniture. To be fair to them, all the furniture on the showroom floor should to be available for purchase. That said, if you're driving from a faraway place to view an item, we can HOLD it until you arrive. Like I said, we try to be user friendly.

A HOLD lasts only for 24 hours.
And we are very reluctant to allow a customer to put a HOLD on the same item more than once.
Sometimes, we have to make difficult decisions when another buyer wants to buy it NOW. We will try to make every reasonable effort to track you down to prompt you for a decision. If we can't, we have no choice but to sell the item. We owe that to our consignors.
As for the woman who left our store so angry last Saturday, I hope she has seen our apology on Facebook. Pushing our rules of engagement aside, this one was our mistake. I do hope that someday she will give us another chance.