The world is full of strange and interesting characters. Anyone who works in a retail store will vouch for the truth of that statement.
Last week, our front door squeaked open and in slipped a man who acted like he'd just gotten a top-secret assignment from Mission: Impossible. He darted from one corner to another in the showroom. Eyes narrowed, he cased the place with the caution of a minesweeper. His salesman avoidance radar was on high alert.
But I felt up to the challenge. I strolled over as he was about to slip out the door. "Sir," I asked. "What's on your hit list today? Are you on the prowl for anything in particular?"
But this guy was one cool customer. "A bed," he said with a deadpan expression. "I'm just looking for a bed."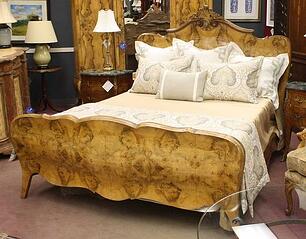 So here's the thing from my perspective: We have over fifty beds between our two stores in Hanover and Newton. If this man needs a bed, we should be able to locate him a bed.
After asking a series of questions about what kind of bed he might be looking for and with not much response other than "just a bed", we took a jaunt through our inventory. How about a cherry sleigh bed , the manly choice? No. How about an exquisite burled walnut antique made in Italy, a real showstopper? No. A classic cherry four-poster bed by Stickley, a keeper for generations to enjoy? No. A mahogany bed with pineapple posts, classic Americana? No. A Thomasville 4 Poster, fit for a king? No. A gleaming brass bed for a touch of yesteryear?
By now, I was in full stride. I enjoyed reeling off the choices in our huge inventory of beds: twin, full, queen, king, cherry, mahogany... We are proud of the treasures in our stores. They've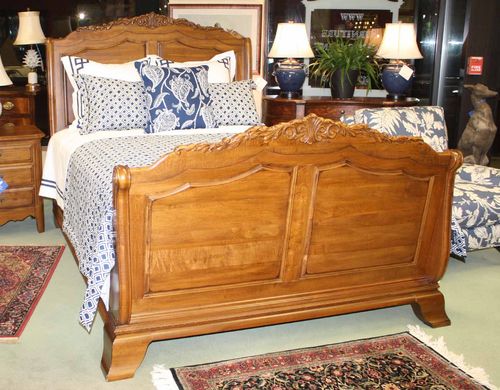 been selected from some of the finest homes in the New England area and we have some great choices right now. Yet this customer just frowned, shaking his head at my every suggestion.
Realizing my time was coming to a close, I finally conceded defeat after describing just about every bed in both stores.
"Sir," I said with regret. "I'm not sure that we have just a bed."