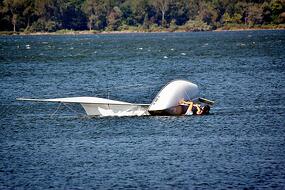 Cruising around the Secret Service boats in front of the Romney estate on Lake Winnipesaukee, I dropped a boatload of uncles, grandparents and kids off at the Wolfeboro, NH docks for the annual Fourth of July Parade. It was Independence Day, and all I needed to celebrate were a few kid-free hours bobbing on the water as the music of the marching band drifted across the lake.
As I floated in paradise, I was mesmerized by the flotilla that was out in force. There were fancy fiberglass boats, high-speed runabouts, a couple of crusty bass boats and a capsized sailboat with hysterical teenagers trying to right the mast. Suddenly, a real beauty caught my eye: a classic, mahogany wooden boat. It was plowing through the waves with serene confidence. Sharp red and white pin stripes gave it a jaunty look. This was true Americana at its best. A parade in America's oldest resort community featuring a Presidential candidate and a classic old wooden boat; this was freedom.
M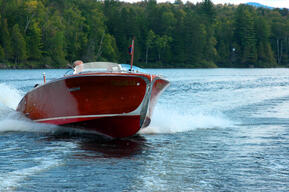 y mind flashed to our showroom. It is stocked with a treasure trove of furniture, some, like the wooden boat, from the 1940s. Like the pieces in our showroom, the boat had been carefully maintained - or restored to perfection.
That boat was elegant proof of how timeless a well-crafted piece is. Out on the water, I mused about the similarities between our mahogany furniture and that mahogany watercraft. They both have character, something that's in short supply in mass-market furniture.
So if you're looking for a classic, check out the beauties we've got in our stores in Hanover and Newton. You'll find quality, value and Americana - and that's always worth treasuring.