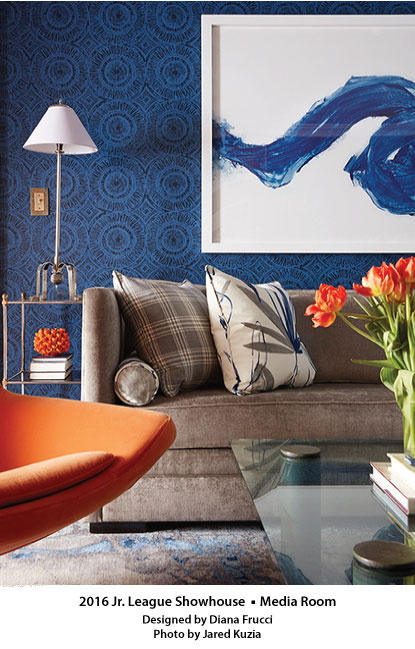 From any angle, the house was a challenge. Neglected for decades, its plaster walls were pocked with holes. Its floors were uneven. The plumbing gurgled as if it had intestinal distress and sparks flew from an antiquated electrical system. Outside, the paint was chipped and the shutters askew.

But the house has a rich history. Built in 1854, it was home to one of the nation's first co-ed schools and it was a stop on the Underground Railway during the Civil War. So, this spring, the area's top interior designers came to its rescue, and they've transformed the ramshackle place into a captivating show house of inspired design.

Among them was Diana Frucci, ASID, my wife and co-owner of Furniture Consignment Gallery. Her assignment was one of the most difficult. She was assigned a small, bland, windowless box just off the kitchen.

Over the last couple of weeks, she's transformed it into a new-concept Media Room. "My vision for the room was a comfortable multi-purpose cocoon for the family," she explains. "And I wanted an artful mix of edgy modern furniture along with some classic, timeless pieces."

Working with Huntington Homes Media Systems, she installed a state- of-the-art audio-visual system with a projection screen for lazy winter afternoons binge-watching Netflix. Venetian sconces flank the fireplace. A rug splashed with blues and grays was donated by the courtesy of Landry and Acari. For a stylish pop of color, Diana added a pair of B&B Italia contemporary chairs with ottomans in tangerine. Diana's Media Room is a hint of the extraordinary mix of furniture we'll be featuring when we open our new FCG showroom in Natick this July. Along with the brand-name, high-quality classic and traditional furniture for which we are known, Natick will offer a large selection of upscale contemporary pieces made by Mitchell Gold, Roche Bobois, and Rolf Benz.

So visit the Nathaniel Allen House in West Newton, MA, the Junior League of Boston's 2016 Designer Show House. Linger in the Media Room and imagine the possibilities of bringing a fresh, new and edgy look into your home. We'll have just the mix of furniture you need – at bargain prices – starting this summer in Natick.