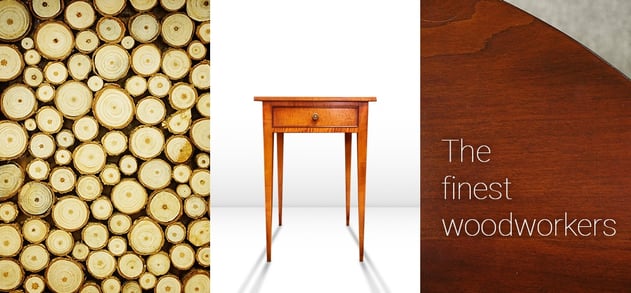 Foodies started the concept of buying local years ago – and now it's catching on in other areas: fashion, art, crafts and even furniture.
At FCG, we're proud to support our local craftsmen and furniture-makers. Here in New England, we have some of the finest woodworkers in the nation. Their furniture pieces are solid wood, typically harvested from local and regional forests. This furniture is made in America, with diligence and pride.
Consider some of the pieces we have in our showrooms this weekend.
Eldred Wheeler prides itself on making furniture in the same manner as the skilled cabinet-makers who flourished in 18th century America. Using wide boards of cherry, maple and tiger maple, Eldred Wheeler hand-planes and scrapes the wood, then uses old-fashioned techniques to join, carve and finish.
Its furniture is typically very costly, but we have some amazing bargains on consignment. Among them is this tiger maple one-drawer nightstand: http://www.furnitureconsignment.com/product/39052-143982eldredwheelernightstand.php
D.R. Dimes and Co. crafts museum-quality reproduction American furniture. The company takes pride in being not only in the furniture business but also in "the history business." Working with tiger maple, oak, cherry and pine, all its pieces are made at its workshop in New Hampshire.
This week, in our store in Natick, we have an exquisite oval dining table made of cherry: http://www.furnitureconsignment.com/product/38596-142261drdimescherrytable.php
Thos. Moser has won scores of awards for its furniture which is characterized by "simple, unadorned, graceful lines ... crafted for a long, useful life." Headquartered in Maine, which has a long history of wood craftsmanship, the company creates its pieces from black cherry and guarantees them for the lifetime of the original owner.
This week, we had a Thos. Moser king bed in our showroom in Natick. That piece sold quickly to an avid collector, but we're fortunate to get new pieces into our showrooms frequently. Watch our website for these stunning pieces.
Our three stores, combined, offer nearly 40,000 square feet of showroom space, in which you'll find the finest collection of pre-owned furniture in the nation. Stop in and we'll be glad to show you some of the treasures hand-crafted here in New England.