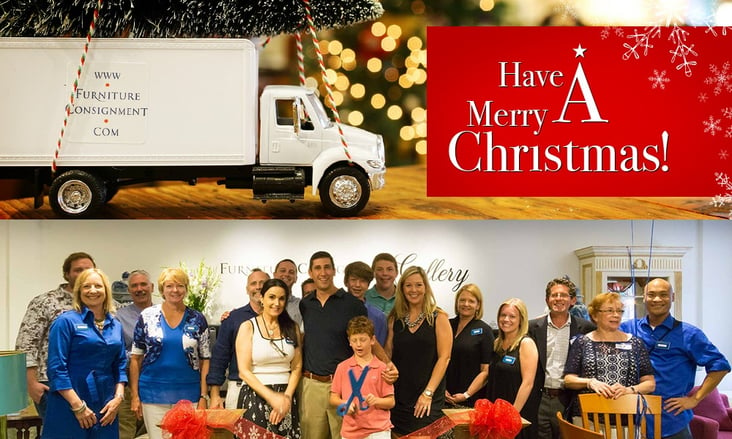 Every day, when the doors open at Furniture Consignment Gallery, it's showtime!
Our staff works hard all year long to find and showcase the finest pre-owned furniture in New England. Our delivery teams navigate the highways and byways of our region, from bustling city streets to rutted dirt roads, picking up and delivering the goods. Unfailingly polite and considerate, they make sure your furniture is handled with the care it deserves.
Then, our talented store designers take center stage. They create amazing furniture displays that highlight the extraordinary pieces in our showrooms. And they work with each and every customer to help them find just the right piece for just the right place in their homes.
This was a particularly big year for FCG. We opened a vast new showroom in Natick, MA. We closed a small store in Chestnut Hill. We added warehouse space and streamlined operations to accommodate a company-wide growth spurt.
Throughout it all, our seasoned staffers and new employees have given their all to their jobs. Together, they welcomed the challenges and embraced new ways of doing business. One and all, they worked as a team.
Diana and I are grateful for their time, talent and dedication to the mission of FCG. We believe we have the good fortune to work with the best people in the industry from our delivery teams to our web photographers, our salespeople and our store managers.
So we want to wish them and their families a wonderful holiday season. As the curtain goes down on 2016, let's roll the credits:
Delivery: Matt A., Matt G., Rob W., Dana D., Christian B., Andrew S., Nick G, Cade F.
Marketing: Donnie C., Alyssa O'., Amanda B.,
Sales Associates: Marsha, Carole, Karyn, Carolyn, Jill, Diane, Drew, Ron, Mike
Store Managers: Ellen, Brad, Brian
Accounting: Gloria
And I'd like to add one final note: we lost a wonderful employee this month, Gina Gatter, Assistant Manager of our store in Natick. She was not only a tremendous talent but also a friend. Our hearts pour out to her family this season. She was loved and appreciated. We, at FCG, will miss her
Holiday Hours: Christmas Eve 10-2, Chrstmas Day Closed, Monday December 26th 12-6, T-F 10-6. New Year's Eve 10-4, New Years Day 12-5.