Wafting out the window was an irresistible smell: cookies. Italian cookies, loaded with butter and spice, to be more specific. Inside, a white-haired older woman was busy trying out the oven in her new condo. She smiled and beckoned us into the kitchen. Trays of cookies were cooling on the countertop.
"Oh, boy!" I thought. "Smells just like my grandmother's house ..."
We were there to deliver some furniture she'd bought for her condo in a new retirement community. Up and down the stairs we jogged for almost an hour carrying dressers, bedside tables, chairs - and drooling over the still-warm cookies. When we were finished, she thanked us cheerily and shooed us out the door - without dishing out so much as a single cookie.
"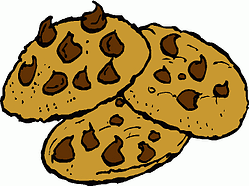 Humph," I found myself stewing darkly in the truck all the way back to the store. "No cookies? No cookies! My grandmother wouldn't let you leave her house without eating two big meals and carrying home a week's worth of food. That woman might have had the recipes, but I bet she wasn't even Italian."
Yes, life is much easier if you can manage to roll along without expectations. On the other hand, life also serves up some unanticipated pleasures when they are least expected.
Monday was a quiet day in the showroom. Most moms were shopping the back-to-school specials, not looking for furniture. I was busy doing paperwork. A long-time customer popped in on her way to visit a friend down the street. She had just baked several dozen cookies, forgetting that her friend was gone on vacation for the week.
"Please take them," she pleaded pushing a fragrant tray of just-baked cookies across the counter at me." I just made them - and I can't eat them all."
They were frosted - and Italian - the best I've had since I lost my grandmother a decade ago. Thanks to that oven-mitt-wearing angel, I was reminded once again that life is unpredictable - and that you've got to embrace the disappointments along with the joys.
That's sort of what it is like to visit our furniture showrooms. You may not always find everything that's on your list. But sometimes, when you least expect it, you'll find a treasure you couldn't have imagined.