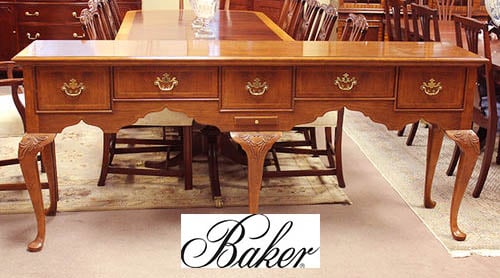 Her diamonds were sparking a laser light show as she gestured imperially at a sideboard in our sunny showroom at Chestnut Hill. "It's a Baker Furniture Historic Charleston," she said with a dismissive wave in my direction. "It's perfect! Wrap it up for me!"
She leaned towards me as if bestowing some kind of a state secret. "Upholstery, I buy new," she confided. "Everything else is consignment."
Even the very rich have discovered the thrill of finding a treasure at Furniture Consignment Gallery. Apparently, mingling with the hoi polloi is so very worth it when you can find an extraordinary bargain for your mansion in one of our three showrooms.
Two weeks ago, a sparkling German SUV breezed into the parking lot in our Hanover location. Out stepped an elegant woman and her interior designer, armed with blueprints. They whipped through the showroom plucking tags off a dozen pieces of furniture, including the Ralph Lauren mahogany dining room table on which they'd laid out the architectural plans of her suburban palace.
"Dining room, foyer, master bedroom – done, done and done," the designer said with a sigh of delight. She and her client had set aside half of the decorating budget for consignment pieces. Their success that morning meant they could splurge on custom bedding and window treatments for the daughters' bedrooms.
"Consignment is a terrific option for even my wealthiest clients," she said in a private aside to me. "Quality furniture, brand names, bargain prices, and delivery within a few days – it's instant satisfaction."
Whether you work the nightshift or you own the factory, you can create the home of your dreams at FCG. Our inventory is constantly refreshed with new pieces coming in every week, and we've got something for every budget. Bring your blueprints. Wear your diamonds. Or not.
Shopping the pre-owned furniture market is smart. Shopping at Furniture Consignment Gallery is brilliant.
Click to edit your new post...