Our postman staggered across the lawn under the weight of the package. He dumped it on the doorstep, rang the bell, and dashed back to his truck. Inside, as the bell chimed, the dog went wild.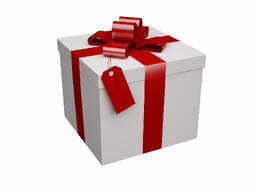 So did my imagination. A box! Just in time for Christmas! I could hardly contain my excitement - and neither could my three boys - as we hauled it inside and considered the possibilities.
Collin, my middle son, said out loud what we were all secretly hoping. "Maybe it's a giant flat screen TV!"
Instantly, I envisioned ripping the old, obsolete clunker off the shelf and installing our new, imaginary TV. Then, nirvana. We'd enjoy Kentucky basketball games on the big screen. Since our team is ranked #1, we'd watch the March Madness championship game in HD.
The Patriots would probably go to the Super Bowl, and we'd have a big party. The Kentucky Derby on the big screen - amazing! Oh, the fun we'd have. Best Christmas ever, we were thinking as we hovered excitedly over the unopened package.
Then, the boys got busy, tearing it open. Styrofoam popcorn exploded all over the foyer. Even the dog got into the action, nipping and gnawing at the cardboard. I cut through layers and layers of bubble wrap.
The moment of truth was upon us. I reached into the plastic and pulled out ... two large framed prints of horses. The boys and I sat back in stunned silence, our dreams dashed. One horse gazed at us soulfully with a mouth full of hay. The other horse struck a noble pose, staring off into the distance.
Turns out, one of my wife's aunt was downsizing and moving to a smaller home. She decided to surprise her niece by shipping her two beloved antique prints. "So thoughtful!" Diana exclaimed after she heard the commotion and hurried to the foyer.
Well, that's the holidays for you. Even those of us old enough to know better sometimes believe in Santa. But, to quote the Rolling Stones, you can't always get what you want.
So, if you got a couple of horse prints this year for Christmas or Hanukkah, I can recommend the perfect solution: FCG. We may be able to find a happy buyer for your unwanted items - and in our showrooms you just might find and get what you need.