You don't have to be a member of the 'Rich and Famous' to want anonymity in selling your personal items. Some people will always trade their old car in when purchasing a new one because they don't want to deal with the hassle of selling on their own.
On the other hand, there are other individuals who will make a spectacle of selling an old coffee mug. So how you sell your personal items, and specifically your furniture, depends on your personality, how much time you have and how much effort you are willing to expend. There is a different method of selling for each seller!
Consider the Newspaper: If you have vintage non-antique items dating from the 1940s through the early 1970s. It is true that the newspaper readerships are plummeting faster than a piano out a seventh story window, but buyers for pieces from that time frame still tend to get their information from old fashioned print. Therefore, print media still has its place. Newspaper advertisements run from $15 - as much as you want to spend depending on the publication and size of the ad.
Consider CraigsList: If your items have minimal resale value associated with them. For starters, it is free to post an item on there. Secondly, there is a great market on www.CraigsList.com where individuals are looking for something functional for a low price. This is the perfect place to sell your sofa for $50.
Even for high-end furniture CraigsList can still be effective. If you have the time, like the sport of selling your pieces and want to maximize your proceeds from the sale, CraigsList can get the job done. You may have to deal with some missed appointments, low ball offers, and a shady character or two, but you may be pleased with the results. Spend some time researching the active scams before agreeing to an offer.
eBay: is the most difficult avenue for selling furniture as most people want to see it, feel it, sit on it and touch it in person. Though furniture certainly sells on ebay, it tends to be expensive to ship. eBay does a great job of maintaining privacy and confidentiality for sellers.
An Auctioneer: is a great option for vintage 1940s pieces and older. Auctioneers are especially effective if you have a rare piece, have items that include collectibles, jewelery and silverware, etc. An auctioneer is generally not going to be very interested in "newer" items. Auctioneers operate on a percentage basis and also charge a buyers premium. A good auctioneer should offer a pick-up service for your items. Be sure to check reputations and references before selecting an auctioneer.
An Estate Sale or Tag Sale is another great option for an upscale estate looking to sell many pieces of furniture. This option allows for quick payment and divestiture of your items. Your estate sale specialist should be extremely trustworthy, a good marketer and have a plan for items that don't sell. Comfort and trust are paramount in an Estate Sale as they will be dealing with handling the general public in your home while you are not there. Estate Sale specialists will take anywhere between 15% - 35%.
Consider Consignment for most situations. Similar to an estate sale, it is important to be comfortable with and to trust the business owner. Consignment stores generally have space constraints and serve a specific market based on their business model. It is important to partner with a consignment business that sells the types of things that you have. A well-run consignment store should have good customer traffic, and as a result will be able to show your items to a lot of buyers. This allows you to achieve a strong purchase price. Merchandising is also important in a consignment store. If you had a living room grouping in your home that was coordinated to go together, it would be great if the store has the appropriate space and layout to display the pieces together.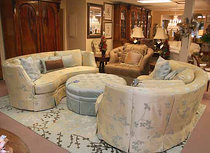 Unlike an estate sale, consignment stores offer anonymity and confidentiality when selling your items. They protect your home and your name from the prying eyes of the general public. Most importantly, consignment stores give your items time to land in the hands of the right buyer. A consignment store will take a higher percentage for the conveniences and overhead that they must supply. Consignment stores take anywhere between 30% -70% for the sale.
There are positives and negatives associated with all of the options. The solution is different for each individual. Sometimes the right solution is a combination of the available options. Someone might swear that CraigsList is the answer and that he or she would never pay a consignment store half of the sale. The next person would never subject him or herself to the in-home risks of dealing with anonymous strangers from the Internet under any circumstances. Every piece of furniture, seller, and buyer is unique. Likewise, so is every sale.