To most people, redecorating means one thing: New furniture. While this is often the case, there are times where you can have the best of both words: A new look on old furniture. Working with a family at their home in Milton, MA a few weeks ago, the homeowner showed me her son's room. She pointed out the 1950s solid maple twin beds that she would like to replace with something more current.
Instead of junking the beds, we discussed painting them black. A lacquer finish provides a protective coat and a modern look. By doing so, the beds would resemble beds from a Pottery Barn or Crate & Barrel. The new look would mean that the beds would last.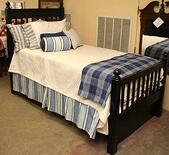 By modernizing her furniture, she was sure to save a few greenbacks, keep her existing beds out of a landfill, and create a decor that she and her kids could live with.
Some of the best furniture that we sell has been re-purposed and modernized. The craftsmanship of old furniture is unparalleled; furniture that was built in days past was built to last. By thinking outside the box, you can allow your furniture to endure. Here are a few things to look for when considering a modern look for your furniture:
The quality and construction. Is it built from solid wood? Are the drawers dovetailed? If yes, modernization is worth pursuing.
If the furniture looks well weathered or worn, it's O.K. A little sanding, stripping, and refinishing will leave your furniture looking like new. Believe it or not, refinishing costs are not based on how beaten the furniture is.
Polish the hardware. Hardware can be unscrewed from drawers, and a little Cape Cod Polish (and elbow grease) can make a world of difference. Though it may seem minor, polished hardware does wonders for updating your furniture.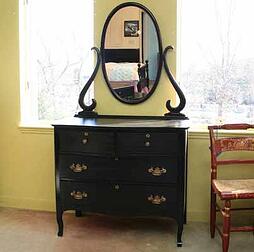 If you've been craving that catalog look to your home, you may be closer than you think. A little creativity and ingenuity is all you need.