As I trundled into the gym last Monday, I heard a familiar voice call out, "You're welcome, Jay!" The place is always mobbed in January and February, as everyone does penance for the holidays. So I couldn't actually see who was hollering at me, but I knew the voice. "Thanks, Jim!" I hollered back. That's been our weekly ritual for years.
Every Monday, I go to the gym. That's largely because of some wise advice from Jim, a retired retail executive who has been a kindly counselor to me for years. Jim knows well the demands of managing a fast-growing business. He insisted from the start that I take a day off every week. So our stores have always been closed on Mondays.
Jim was right. I needed a day off. For the last seven years, I've been a jack-of-all-trades. I answered the phone and drove the truck. I picked up furniture. Back at the store, I sold furniture - then jumped in the truck and delivered it. When things were quiet in the showroom, I paid the bills, managed the books and swept the snow off the front steps.
But things change. Furniture Consignment Gallery has grown. Soon, we'll have three stores with many more customers and big challenges. But we also have a strong infrastructure now. We've developed dedicated and experienced staffers like Ron, Jeff, Sam, Christa, Matt, Nick, Judy, Theresa, Denise and Brad who share our vision. They do their jobs well and I trust them to take care of our customers.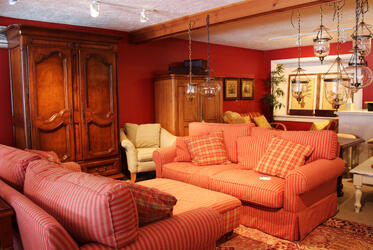 So starting this Monday, Presidents' Day, February 18th, Furniture Consignment Gallery will be open seven days a week. That means we won't see any more disappointed shoppers circling the empty parking lot in Hanover after tugging on our locked doors on Mondays. They'll find our doors open and our showroom filled with quality furniture, art and accessories. So will the folks in Chestnut Hill. And our newest store in Plymouth also will be open seven days a week starting March 1.
As for me, I'm still planning on going to the gym on Mondays. I'm working off the holiday pounds one bench press at a time. And I know Jim will approve.