"New Jersey has the best tomatoes in the country," the gentleman reflected thoughtfully. He'd stopped by our store to ask me to evaluate a rug for consignment. Not this week, I said. I had plans for a road trip - to New Jersey. Don't forget to stop at a farm stand, he advised. You don't want to miss those tomatoes.
Here at Furniture Consignment Gallery, we've always said that we will go far to fill our truck with good stuff, and we mean it. This week, we made the trek to a fine estate in Livingston, N.J.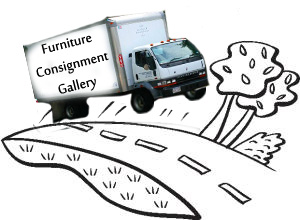 Getting there was a battle. We dodged kamikaze drivers from Boston to New York. At one point, we put the truck in park and sat on sweltering concrete for several hours. So hot was it in fact, that off to the side of us, a car literally caught fire and went up in flames. By the time we got to the Garden State, I wanted to hurl some of those famous tomatoes at the welcome sign.
Our escapade took nearly twenty-four hours, but we returned unscathed and with tons of, juicy, ripe furniture: Henredon, Ralph Lauren, Mitchell Gold and Althrop. Also among the bounty was an extraordinary leather sectional and ottoman from Bloomingdales, creamy and soft as butter.
We also scored some beauties closer to home this week. You won't want to miss the mahogany Stickley dining set that came in from North Reading with some upholstered pieces from Ethan Allen. Or the Hickory Chair sofa from Rowe's Wharf. Or the Council Craftsman inlaid table, chairs and server from Wellesley. That home also sent twenty other great items to our showroom that are not yet on the web stie.
"Have truck, will travel."
That's our motto. So be sure to stop by today. The good stuff goes fast.