I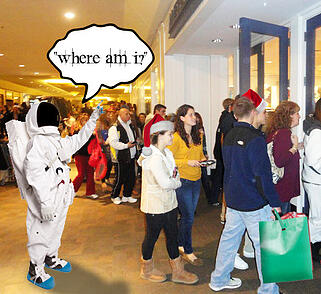 've been watching holiday shoppers in our showroom this week and it isn't a pretty sight. They wander in grumbling to themselves looking vaguely disoriented - like astronauts who made a rocky landing on an alien planet.
"Where am I?" they're mumbling. "Why am I here?"
To anyone who's suffering the gift-giving blues, I'd like to offer some cheerful advice: You can do it. We can help.
Okay, so I'm paraphrasing the motto of a big home-improvement store. But we've scored a couple of victories here.
One young woman was on the hunt for a gift for her mom who spent the summer helping her set up her first apartment. How to thank her? She knew her mother loved fine furniture, and she was thrilled to find a tiger maple candlestick table, crafted by the famed cabinetmaker Eldred Wheeler. She skipped out the door, hugging her purchase.
A construction worker dashed in on his lunch break to buy a coffee table his wife had fallen in love with last weekend. Another woman was overjoyed to find a bronze sculpture of a cowboy clinging to a wildly bucking horse, a museum-quality replica of a Frederic Remington. Her husband was a passionate collector of Western memorabilia. She left the store beaming.
Let's be honest. It's hard to buy something special for those who mean the most to us. Thoughtful just isn't enough. We're looking for starry-eyed wonder when they open the package.
So give us a chance. Don't wander the cluttered ragbag shops of the mall like a zombie. We'll put our elves here to work. And you can count on us to help you find the perfect gift.