In the end, the room was utterly transformed.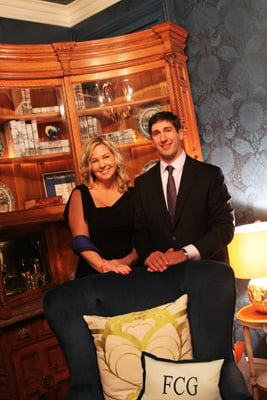 All it took was six weeks of hard labor - and a flash of creative genius.
This fall, Diana Frucci is one of 35 designers participating in the showhouse sponsored by the Junior League of Boston. Each designer was assigned a room in the Potter Estate in Newton, a rambling Victorian built in 1867.
Diana's assignment was a challenge. A century ago, the "Lexington" room likely had been unhappy quarters for a servant. Dark, dingy and claustrophobic, it required a heart-thumping hike up three flights of stairs. Sunlight struggled through a grimy window. Squeezed into the room's tiny closet, oddly, was a sink.
Over the last few weeks, though, Diana worked her magic on the place. She envisioned the room as a cozy hideaway for a busy family's au pair. She covered walls and ceiling in a dramatic cobalt-blue damask wallpaper.
For furniture, she raided the two showrooms of Furniture Consignment Gallery. She took a gleaming Biedermeijer chest for elegant storage and a velvet wingback chair, which beckons the weary visitor to rest.
Beside the bed is a bold piece of art: a painting of a bare-chested and muscular man in a swimsuit. (Maybe the nanny is actually a ... manny?)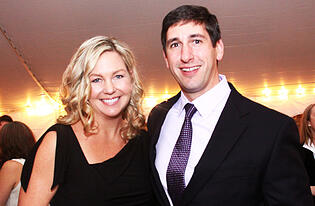 And as for that awkward closet, Diana came up with an inspired solution. She gave it a splash of color, painting the walls a vivid poison green and wrapping the sink in a sophisticated geometric print. Then, she filled the basin with orchids.
If you design it, they will come - and they will fall in love with it. That's Diana's dream.An estimated 10,000 will visit the Potter Estate over the next six weeks, according to the Junior League, and they'll be looking for decorating moxie. (For tickets and more information, check out jlboston.org) After all, a showhouse is showbiz. Instead of greasepaint and glitter, this is a performance done in fabric and furniture, paper and paint.
Attendees should all make that climb to the attic to spend a few moments in a very special place designed by Diana Frucci. They won't be disappointed.


Photos