"Hey, kid!"
I heard a raspy voice holler across the showroom, and, though it had been nearly a decade, I recognized it right away. For those of you who aren't from Boston, everyone is a "kid"-- even a soon-to-be-40 business owner. You gotta love this town.
Out in the parking lot, I spotted his red truck and the memory came rushing back.
Years ago, in the midst of a move to a new home, he'd heaped a lot of furniture into the flat-bed and hauled it to our store in Hanover. Late in the day, after we'd closed up shop, he decided to bring one more piece: a massive pine hutch.
By then, we'd gone home. Our doors were locked. So he unloaded the hutch behind the store. It was a warm and cloudless summer evening. He figured there was no harm in leaving his hutch outside for one night.
The following morning, he rumbled into the store. "Hey, kid," he asked. "What do you think of the hutch?"
I was puzzled. What hutch?
"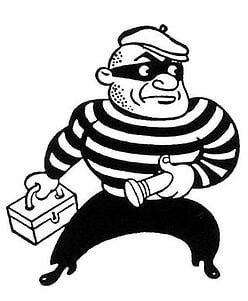 I left it by the back door last night," he said. We went outside. No hutch. By now, his face had registered emotions from skepticism to confusion to shock. Solid pine, that hutch must have weighed a couple of hundred pounds.
After sleuthing out back, we turned up some clues: tire tracks, boot prints, sawdust, and a bent blade from a Sawzall. The thief apparently had spotted the hutch behind the store, took off to get some tools and returned with a versatile cutting monster capable of, say, slicing through a Boeing 747. Adding insult to injury, he plugged his Sawzall into my outlet!
After hacking the hutch in two, the thief loaded it in his truck and took it home. The hutch was gone.
That was our first - and only - grand theft at FCG. Both of us were robbed. There was no money to be made for either of us on this piece. I felt badly, but he knew we shared the loss together.
Despite the snafu with the hutch, my old customer had had a good experience with Furniture Consignment Gallery, and he was back to do business again - after we'd shared some laughs remembering the hutch-hacking.
Seeing him reminded me also that we are in a true partnership with our consignors. Most often we win together as items sell quickly and for good money. We split those sales with each other. But sometimes, things don't work out as planned and we share those pitfalls together too. I really like the fact that when you do business with us here at Furniture Consignment Gallery, we are in it together.