The question is asked at least once a day, "What kinds of things do you take for consignment?" The quick answer is "Things that we can sell!" but that's only really half the truth. There are plenty of items we can sell, but we want to take the pieces that knock the socks off of our buyers. There are a few specific features that customers are particularly attracted to:
Wood Grain that pops out of the wood. Well, it doesn't literally pop out of the wood, but customers love to see disctinct and powerful wood grains. Tiger maple, birdseye maple or walnut, and quartersawn oak will draw the "oohs" and "ahhs" of a potential buyer.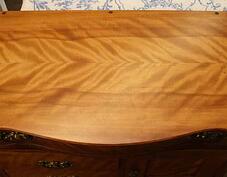 Veneers with a punch always draw a reaction from browsers and buyers, especially those that offer contrasting colors on the drawers of bureaus and the doors of larger pieces. The crotch walnut or mahogany veneers that are bookmarked together are always crowd favorites.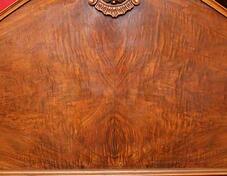 Furniture with bold inlays almost always sell well. Mahogany dining tables with a border that has satin wood, ebony wood, or rosewood is striking to the eye and allows a homeowner to mix and match various accent pieces.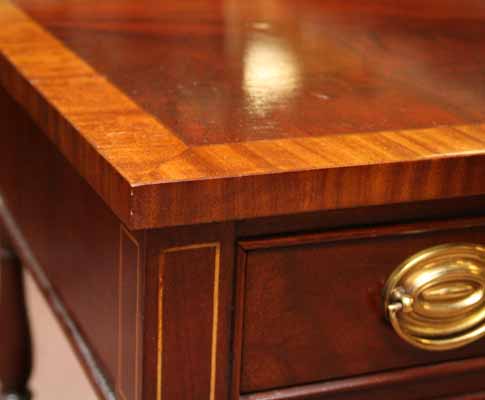 Nothing beats a great finish! Not all finishes are equal, and certain companies and craftsman do better than others. I've seen good furniture with a sub-par finish sell for significantly less than similar furniture with a superior finish.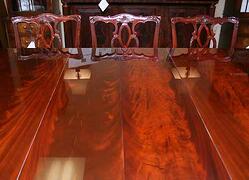 Unlike the purchase of your home where it is important to think about resale before you buy, you should not buy furniture for its potential resale value. However, if you are looking for a way to justify a purchase of high end furniture, pieces that have a great finish, contrasting wood colors and nice veneers will appeal to most buyers if indeed you decide to sell down the road.