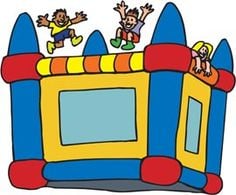 "Hey, Jay!" one of the other dads hollered at me from the other side of the ballpark as our sons were finishing up soccer practice. "Looking forward to the party!" I nodded, grinned and waved back at the guy trying not to look totally confused. "Party?" I thought. "What party?"
Ten minutes later, I found out. Parked in my driveway was a truck. Two men were hauling a massive inflatable bouncing house into my backyard. Yes, we apparently were having a party. Robbie, our youngest, was turning seven. His buddies were coming to our house to celebrate. All of them.
Inviting 20 seven-year-old boys to a backyard birthday party is sheer lunacy. There are no carrot sticks on the menu, just pure sugar bombs. Add an arsenal of plastic weaponry and you've got an incendiary mix. You'd have less damage from a horde of Mongols.
Other parents - that is, the ones who value their homes - outsource these kinds of events. They rent an indestructible party palace for the afternoon. That's so the joint can be hosed down and, if necessary, rebuilt after the party.
Whose idea was this wingding anyway? Diana, my wife, looked remarkably cheerful for someone about to be overrun by munchkins with inflatable pickaxes. "Jay," she insisted. "It'll be fun!"
What actually happened was two hours of utter mayhem. Like an invading force of troop carriers, SUVs pulled up in front of our house at precisely 4 p.m. Out spilled an army of howling kids. The party instantly devolved into a battle scene. Their parents stood at the perimeter - wine and beer in hand - watching in shock.
Robbie's older brother, Cade, had been enlisted as a kind of bouncer to keep the peace. At 15, he is six feet tall and 190 pounds, but he was no match for a swarm of seven-year-olds. They attacked and beat him into submission with their axes. I could hear muffled cries for help, but I wasn't about to risk the fury of the mob.
Considering the battlefield wounds, we probably should have had a MASH Unit. One boy ran up to his mom with blood running down his lip. "Mom," he said breathlessly. "Can you hold my tooth?" He dropped the tiny pearl into her hand and raced back into action.
When the party was over, I surveyed the yard and tallied the damage. They came, they ate, they conquered. One tooth was extracted. A lawn chair had been twisted into a pretzel. The flowerbeds were shredded. No casualties. All in all, according to Robbie, it was a pretty good party. Would have been better if Cade had suffered a little more, but overall -- pretty good.