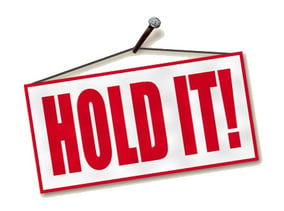 "We need a policy!" Ron, veteran manager of our store in Hanover, said firmly, looking directly at me. "Enough is enough."
Policy. That word fills me with dread. Ten years ago, Diana and I made the leap from Corporate America into our own small business in part to escape the rigid policies that big companies inflict on employees and customers. We believe policies hamper creativity and initiative. At FCG, we hire smart people and we trust them to make good decisions on behalf of the customer and the company.
Still, Ron had a point. He was frustrated with all the confusion - and, at times, disappointment - created when one of our customers puts a piece of furniture on "hold."
At FCG, we allow our customers to put a "hold" on a piece of furniture until they can make a reasoned decision as to whether the piece is right for their home. We'll honor that hold - that is, we won't sell that piece - generally for 24 hours.
However, there's a catch. If another buyer comes into the showroom and expresses an interest in buying the piece, we'll call the person who put it on hold. At that time, on the phone, they have to make a decision to buy or not to buy. We make every reasonable effort to reach the first buyer, but if we can't, we will sell the piece to the person in front of us.
That's only fair to our consignors who have entrusted us to sell their items quickly and at the highest possible price.
I don't like holds. They cause confusion. Some buyers think a hold will last for a week - or a month. Others are upset getting a phone call that will require they make an instant decision. We don't like disappointing anyone.
Still, for our business, holds are a necessity. Some buyers spot a piece of furniture online and are willing to drive an hour or more to check it out. Sometimes, they'll call us as they are pulling out of the driveway to ask us to put the piece on hold. Or wife may want her husband to see the piece after work before they buy it. We think it's only fair to give our buyers that time, if possible.
I understand the frustration our salespeople and managers encounter explaining and enforcing a hold. But I still don't want to put in place some legalistic policy, one that would have a hold expire precisely at the stroke of midnight. I want to empower our employees to use common sense and do what's right for the buyer, the seller and the business.
So we're not going to join the cable company, the utility and the rest of Corporate America. We're not going to put a lot of policies between us and you. In fact, to us it is a point of pride: FCG has a non-policy policy.