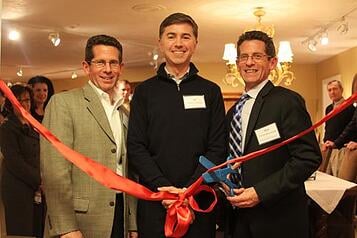 "I will close," Ron, the manager of our store in Hanover, said nonchalantly. "I don't really care about the ribbon-cutting ceremony." Then he reached under the counter and pulled out an oversized, foot-long pair of blue plastic scissors. "By the way," he said, handing them to me, "I found these and I thought they would be great in the photographs."
Who knows where he found the scissors but he had bought and hidden them as a surprise for the ribbon-cutting when we opened our new store in Plymouth. And as for his comment that he didn't care about attending? I wasn't buying that line of manure. Being at the opening meant everything to Ron. Right then, I knew we would wait for him before we cut the ribbon.
Last Thursday, we formally opened our third store. Ron arrived just as Christa, our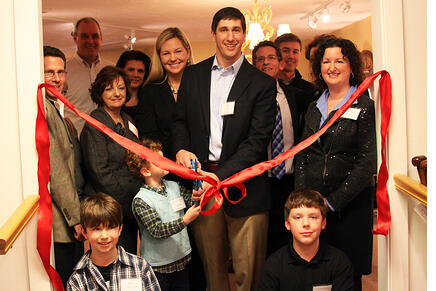 photographer, was documenting the event. She waved him up to the crosswalk where the red ribbon was strung from post to post. There, he joined his twin brother, Brad. Click went her camera.
Ron smiled and clapped his beaming twin on the back. We'd recruited Brad from Florida to manage the new store. This was his moment, but it was a moment largely due to his brother. Ron has been with Furniture Consignment Gallery since 2006, and year after year he has steadily grown the store in Hanover. He gave us the confidence to make this bold move. As a result, we doubled our inventory, broadened our footprint in New England, and hired his brother Brad.
Since December, Ron has quietly done all he could to ensure his brother's success. He sent some of the fine furniture in his inventory to Plymouth. On his days off, he would quietly sneak into the new store to set up the checkout counter, un-box lamps and arrange furniture.
On Thursday, we took a lot of photos. After all, it isn't every day that we have a ribbon- cutting ceremony. We'd re-arranged the group about a dozen times when I heard a sudden "Snip!" Impatient with the endless camera clicking, Collin, my ten-year-old, cut the ribbon and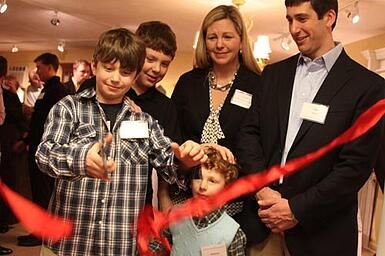 announced to the crowd, "Plymouth is now open for business."
I was flooded with relief. "Thank you, Collin," I thought. Thanks for ending the anticipation and launching this new phase of our business. The twins seemed even more grateful than me. I guess they suddenly realized they were going to have a lot of fun together in this world of furniture consignment.
So drop by our store in Plymouth. You'll find sofas from $229.99, dining sets from $349.99 and sectionals from $1,199.99. We've also got accessories for your beach house and beautiful lighting for any house on any Main Street. All our stores are celebrating. We are offering 10% off on all merchandise through Sunday. Indeed, Plymouth is open for business.